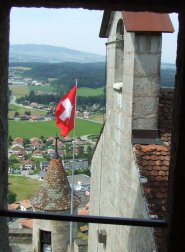 Dwight Peck's personal website
Castles in Switzerland
The Château de Gruyères, 2003
---
Mr Peck used to run frequently from Leysin to Gruyères over the mountains and regularly shuffled through Epagny after about five hours, bound for the castle looming above, drooling in a state of delirium.
---

Feedback and suggestions are welcome if positive, resented if negative,

. All rights reserved, all wrongs avenged. Posted 28 November 2003, revised 29 September 2014.