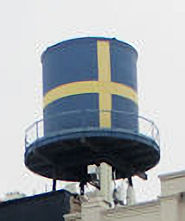 Dwight Peck's personal website
Autumn 2022
---
---
You may not find this terribly rewarding unless you're included here, so this is a good time for casual and random browsers to turn back before they get too caught up in the sweep and majesty of the proceedings and can't let go.
A few views of the Andersonville neighborhood
(What's that all about, anyway? Well, there all kinds of Philadelphia Churches around, who knew? But this one is the Philadelphia Swedish Pentecostal Church, which was founded in the US in 1926 and moved into this disused bank (built in 1921) in 1939. It operated in Swedish at first, then switched to Swedish and English in 1940, then solely into English in 1956. Best wishes to the pentecostals, too.)
---

Feedback and suggestions are welcome if positive, resented if negative,

. All rights reserved, all wrongs avenged. Posted 9 December 2022.