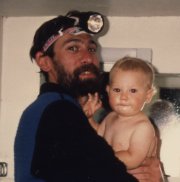 Dwight Peck's personal website
Marlowe Tyson Peck
Some of Mr Peck's best pictures of Marlowe
in her early days . . . . .

---
---
A few days old, and already "Sleeping with the Long Fathers", November 1984.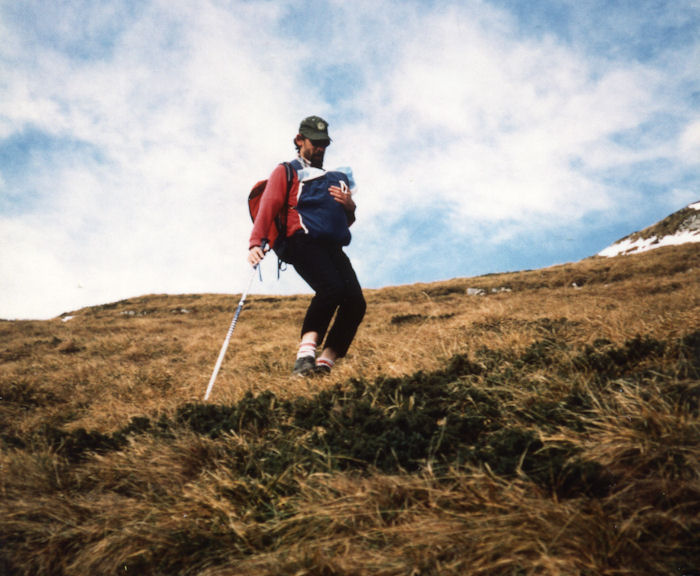 Marlowe's first hike, Berneuse above Leysin, Switzerland, 1 December 1984, sua aetatis 17 days.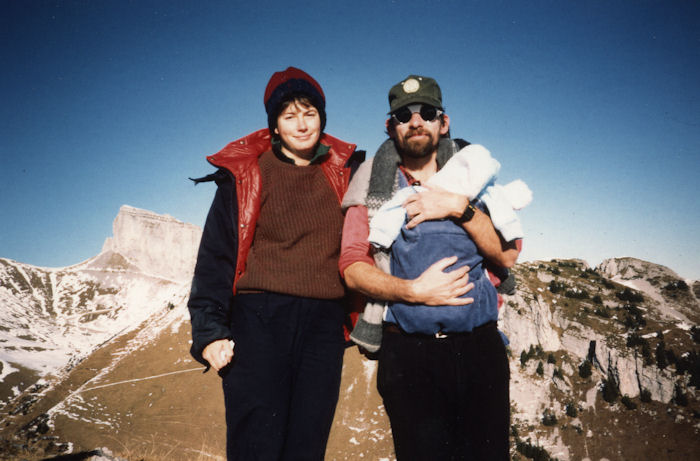 Marlowe's second hike, to La Riondaz above Leysin, 8 December 2004 (her mother looking a little bit fatigued)
| | |
| --- | --- |
| | |
| Marlowe's first ski trek, Les Mosse to Les Lecherettes, Switzerland, 26 December 1984, sua aetatis 42 days. | Welcoming Dad home from an evening ski, January 1985 |
Marlowe's joyful first Christmas, oblivious like most of us, December 1984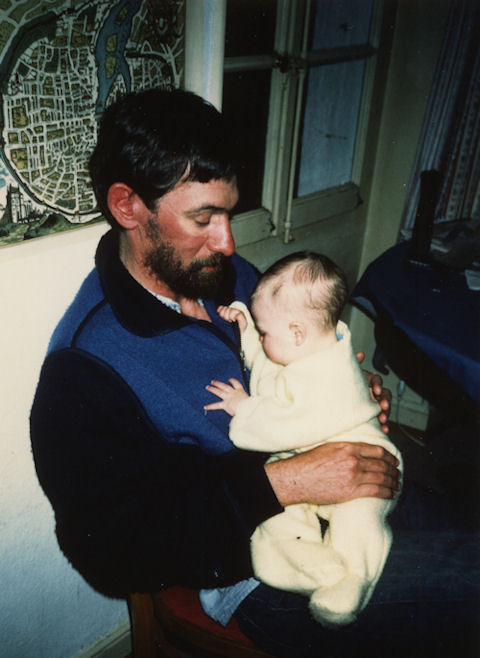 Only just beginning to grow hair [i.e., the one on the right], 1985.
| | |
| --- | --- |
| | Marlowe eating diapers (left); Marlowe's Mom as Marginal Pigeonhead, 1985 (right) |
Marlowe's first visit to Zermatt, Switzerland, August 1985, in the rain.
Marlowe sunbathing at Engstligenalp, 1985. (Engstligenalp 20 years on)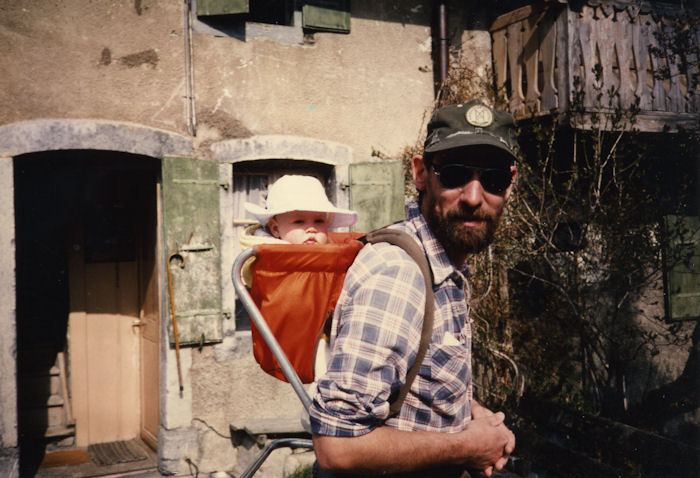 'Gatoring near Luan, 1985.
| | |
| --- | --- |
| Marlowe's first visit to Ballenburg, the fantastic Swiss open-air architectural museum and cultural theme park, August 1985. | |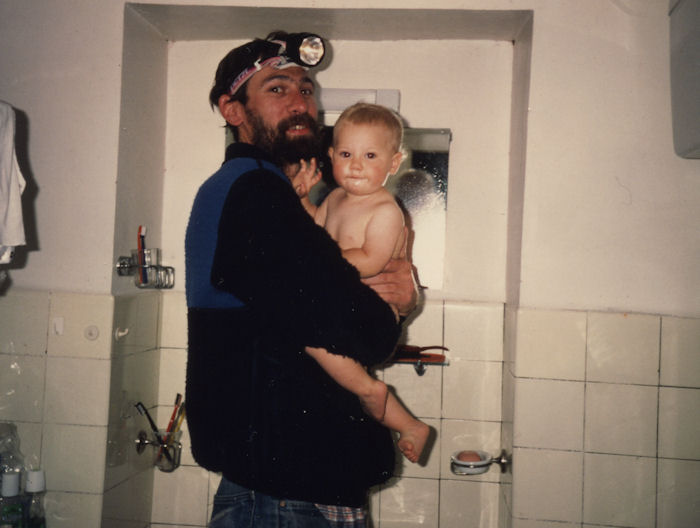 Bath time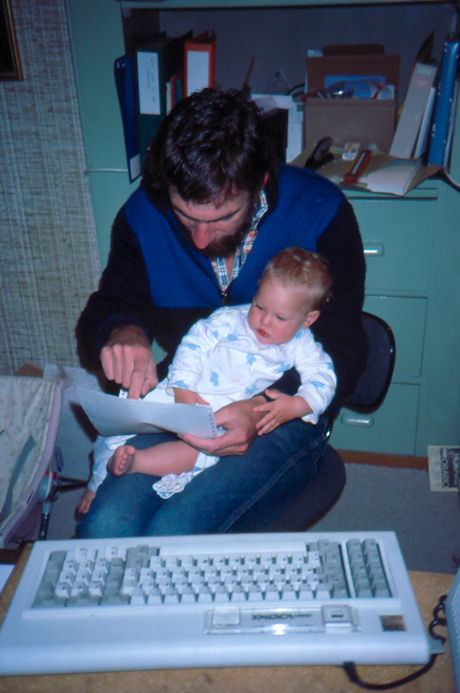 Marlowe studying dBase programming code, 1985
Marlowe's first visit to the glacier of Tsanfleuron (Diablerets), October 1985.
| | |
| --- | --- |
| Marlowe wreaking havoc in Villa Florence, Leysin | Marlowe hiding out in a Pampers box, 1985. |
Tired out from hiking, November 1985.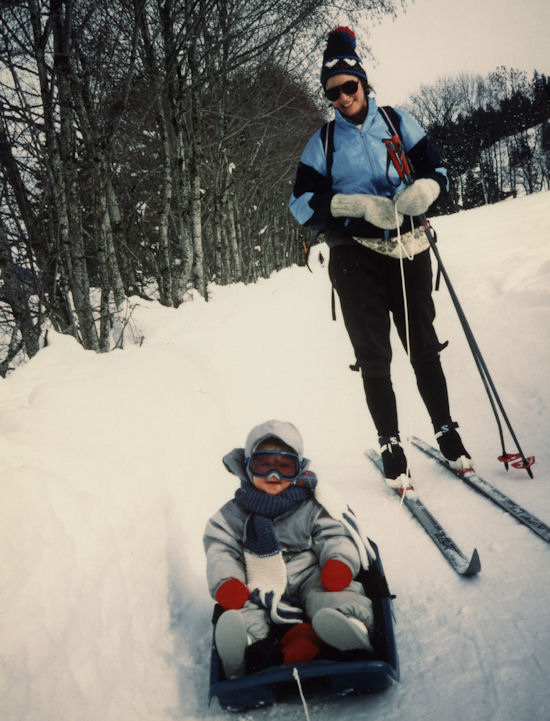 Ski-trekking the easy way, her mother applying the brakes, her father providing the motive force on the flatter parts. Schonried to Gstaad, January 1986. Quotation from Marlowe descending steeply into Gstaad: "Plus vite! Plus vite!!"
Trient Glacier, July 1986, with Mum.
Marlowe walking around Riederalp, taking care of the easy part, September 1986.
Marlowe, not far off from two years old, outgrowing her carrypack in September 1986.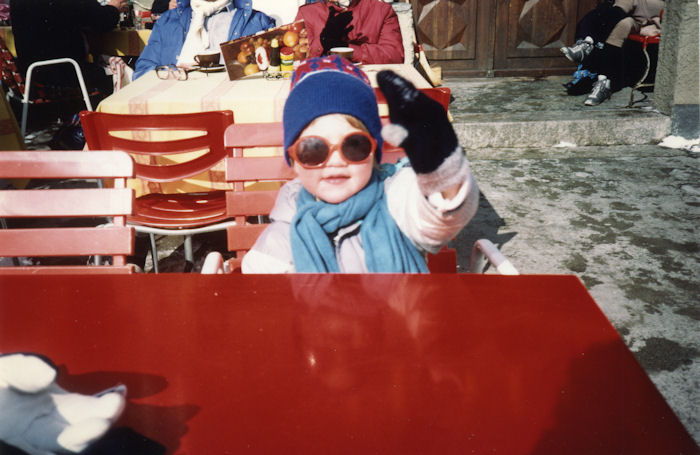 Maloja, Switzerland, March 1987, watching mom and dad blow away the Engadine Skimarathon.
Developing artistic skills, March 1987.
Waiting for the bus, among Greek ruins in Ephesus, Turkey, June 1987. [More here.]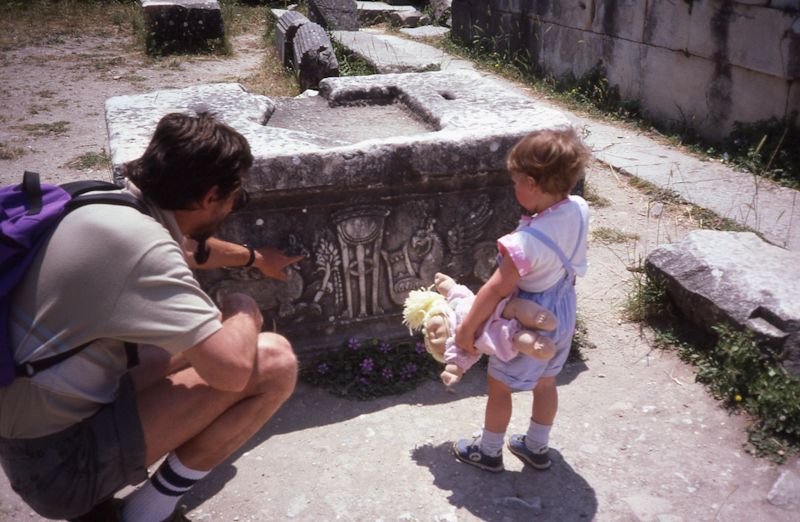 Seeking meaningful patterns amongst random carved motifs, clutching dollie, Pergamum, 1987.
Hiding in the corner tower of the fort at Bodrum, Turkey, 1987.
Further progress in the arts, Chalet Pollux, July 1987
Marlowe, dad and mum, sunbathing in the Alps, August 1987.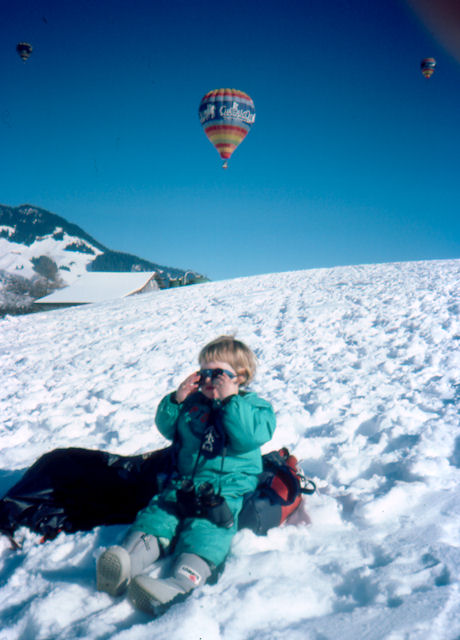 With balloons, Château d'Oex.
Growing up at Tatie's farm in Crettaz, Leysin
Skiing off Berneuse, above Leysin, Switzerland, March 1988.
Ski trekking in the Alps with the bunny pack full of emergency gear.
Watching TV with friend Michele at Chalet Pollux, Leysin, Switzerland, 1990.
"My dad's weirder than your dad." Ornamenting Papa, 1990 [photo: Michele].
Marlowe at the gorge of Rossinière, September 1990
Marlowe, Marta, and snowman, Chalet Pollux, February 1991
Just back from her trip to Hong Kong and South China, 1991.
With her Maryland sweatshirt on, 1991.
Hiking in the mountains, 1992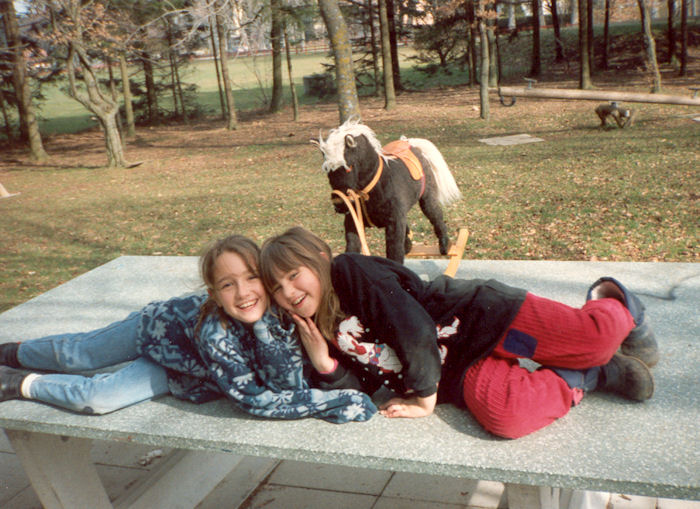 Marlowe and her best friend, or "sister", Audrey from near Crans-Montana, in Gimel, Switzerland, spring 1994. With the rocking horse.
With Dad and sister Alison in Gimel, Switzerland, June 1994
Marlowe on top of Mount Mansfield, Vermont, USA, 1994.
Marlowe and Kristin in Gimel, October 1995.
With sister Alison in Wisconsin, August 1996
Three generations of Pecks in a huddle, August 1996.
---

Feedback and suggestions are welcome if positive, resented if negative,

. All rights reserved, all wrongs avenged. Posted 22 April 2001, revised 14 January 2009.