Dwight Peck
Dwight Clark Peck, Jr is a quiet, gracefully-aging gentleman who has managed so far to keep more or less out of harm's way.
Mr Peck was an American academic and former athlete who moved to Switzerland in 1977 and, since then, has worked as head librarian and sometimes academic dean of the American College of Switzerland and, for 20 years, as Communications Officer for the Ramsar Convention on Wetlands of International Importance. Now retired, he spends his time traveling with Kristin Hagge, mostly in Europe, reading history and Nordic Noir, and hiking in the Jura mountains.
Anyway, the purpose of this website is still to host photo essays on a number of subjects and places about which Mr Peck has taken suitable photos, chiefly to do with his travels, scenic views of local Swiss towns and sights, and hiking and snowshoeing mostly in the Jura, as well as of family and friends.
---
Most Recent Events
Summer 2022. Hydrobikes, amusing cats, & some State Parks. The spring months were devoted to the usual succession of forest walks, but in May we played host to Marlowe, Dmitri, & William from Ottawa before setting out for the Wisconsin Northwoods. Along the way, a short pause near Morgantown WV for some hikes in the Coopers Rock State Forest. After a brief stop in Ashland OH with sister Susan, nephew Adrian, & his son Scott, we caught the famous Badger carferry across Lake Michigan & then sped onward to the lake. The sacred daily hydrobiking with Cousin Rob (and often Oscar, too) commenced at once, & the cats resumed their summer mischiefs, followed by our brief explorations of Duluth MN (not bad at all), with a side trip to the Gooseberry Falls State Park. The traditional sojourn at the family's cottage on Lake Superior was enlivened by a good hike to the Canyon River Falls in the Michigan UP, & once back on the lake we got a welcome visit from Dan & Katie of Maine, our old friends from Switzerland days. Then the long drive home, with an alcohol-free dinner in a gun shop.
Winter 2021-2022. About as eventful as anything's likely to be these days -- but there were a few amusing moments along the way. Roadtripping back from summer in northern Wisconsin, we stopped with Emily in Chicago & memorized everything on display at the Art Institute, then spent a few days in low-key hiking around the Cumberland Falls in Kentucky. Once home, we proceeded to some architectural walks all round historic Staunton and frequent modest hikes in all seasons along the Sherando Lake 'cliff trail', the Augusta Springs 'uplands trail', and the Montgomery Hall jungly paths. A 'get acquainted with Virginia' sojourn took us for a few days in Culpeper and nearby historic towns, then a flying visit with Alison, newly installed in Alexandria, VA, and the National Science Foundation. A week's investigation of the Outer Banks of North Carolina ensued in early March, based in Corolla, with good walks on local swampy trails and monumental sand dunes, and a day's outing on Roanoke Island with Monteo and 'Fort Raleigh'. That's about all.
Summer 2021. National disasters but good fun locally. The summer began in early May with a road trip visiting old friends in South and North Carolina, followed by Alison's visit & some hikes in the Blue Ridge area. Then off for Wisconsin, via a few days' hiking at the Natural Bridge in Kentucky and a visit with Emily's gang in Chicago. Three-plus fairly blissful months ensued of water-related frolics on the lake in the Wisconsin Northwoods, with visits to the cottage on Lake Superior photographing amusing driftwood all over the beach. On the lake we got regular viewings of loons, ducks, eagles, turtles, cats of course, and a snake, with lots of mushroom- and invasive-weed-hunting. At the seasonal end of all which, in early October we paused to accompany Emily to the Art Institute of Chicago, before scurrying on for three days of scenic walks at the Cumberland Falls in Kentucky. In sum, we refused to be too despondent about the self-flushing political situation in the USA, and continued to seek out wholesome fun wherever we could find it.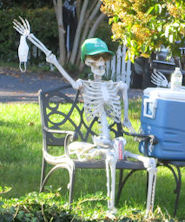 Winter 2020-2021. Basically, the Nothing Year. How could we have got through it without the Trump jokes from the Late Night comic monologues? As the Trump administration of dodgy dimwits' covid death toll kept rising, we transitioned from an encouraging defeat of the Orange Freak in November to, two months later, the first armed attack on the nation's capital since 1814, and the realization by normal people that a sizable portion of the American population is distinctly abnormal. With all that tumbling in upon us, it's not easy to recall anything in our personal lives worth noting -- for us, a few rewarding hikes in the region, a few political demonstrations (masked), a few visits to nearby scenic destinations, some impromptu photos of Melvin the Doge and little Choupette, but not the postponed trip to Sicily. Things may improve soon, in the interim before the catastrophic effects of Climate Change, left too long for much mitigation now, come to stay forever.
Summer 2020. The summer of Trump's Virus. So little to report, or to recall fondly later, in the summer of 2020, in which our national leaders raised ferocious incompetence to a high art, and left all of our citizens with an IQ over 78 masked and nearly quarantined throughout the season. In one sense, it was a write-off season, but in another, it was often great fun – hydrobikes got pedaled all round the Northwoods lake nearly every afternoon, 44 books got themselves read out on the lakeshore lawn, and, with suitable precautions, we didn't fall victim to Trump's Virus despite all his regime's lack of efforts on our behalf. We're heartily grateful that (at this age) we're no longer dependent on the weekly pay packet, and we're heartily filled with sorrow for those Americans who are. Anyway, lots of cute cat antics here, and predatory eagles.

Special Features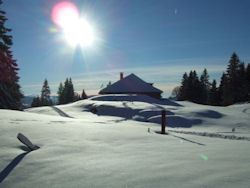 Farms of the Jura. A photo series on the communal farms of the Swiss Jura mountains in the dead of winter -- growing like Topsy, some 75 or 80 wintry farms up now, and only one taken down because of a private-property owner's concerns about increased littering on the premises.
Holes of
the Jura. The Swiss Jura, in the Mont Tendre region, is made largely of limestone and in many places has washed out in dark holes and chimneys small, medium-sized, and frequently gigantic. There's great sport to be had in seeking them out in the snow, darting up close for a snapshot, and backpedaling frantically, giggling in triumph. The Grand Search for Holes. [gazing in fascination into a hole, photo right]
Snowshoeing in the Jura. Rudimentary lessons on how to go about enjoying this popular winter sport, and also on how not to.
Swiss towns and villages (some of which we've dwelt in). Right here. Supplemented by views of Staunton, Virginia, USA (in which we're dwelling now).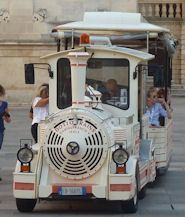 Tourist trains of Europe. Spotting the ubiquitous Dotto Trains from Italy, and the more elusive Tschu-Tschu trains from Germany, in the fashionable tourist destinations all over Europe. Clang clang.
Steamships of Lake Geneva (Lac Léman). The fleet of eight "Belle Epoque" lake steamers and assorted other vessels, on Lake Geneva and selected other lakes elsewhere. Climb aboard.
Forest refuges of the Jura. Photos and descriptions of a bunch of little one-room huts stuck out in the forest, good to memorize in case you twist your knee someday out there whilst hiking along dreaming of your future career triumphs and not watching where you're going. Crawl in here.
Cats with character. Melvin the Doge (b. 10/2016), subsequently joined by Choupette (b. 11/2018), vying playfully for dominance. Here they come!
Some running pix, from back in the day. A few world relay records, half a century ago, and assorted other sporty escapades. Huff puff.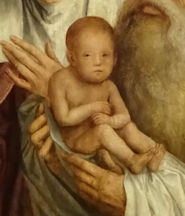 Collectibles: Odds and Ends. Photos of various things we thought were pretty funny at the time, like Beheadings, Martyr-Saints, Nursing Madonna,
Funny Baby Jesus, Last Supper Menu, Kristin & the Lions, Penitential Mary Magdalene, and Joachim Beuckelaer. Maybe good for a laugh.
Various travels. Despite exceptionally strong instincts towards gazing for long hours off the balcony at Swiss scenic vistas with a chilled bottle of beer firmly in hand, from time to time Mr Peck has been gratefully dragged away to other venues. Selected travels and visits since about 1980.
---
---
Gallery of favorites. Scenic views as the 'Great Point-and-Shoot Spirit' intended them. A collection of some of our favorites in the dimensions that several generations of off-the-shelf cameras have given them to us. Travel pix: No pushing or shoving; and now, the snowshoe edition.
Physiognomy (mainly Herr Peck's). An essay on faces and what they sometimes reveal or don't. (And Kristin's as well.)
Something else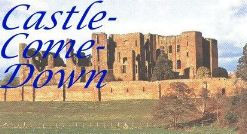 Big story. Castle-Come-Down - faith and doubt in the time of Queen Elizabeth I. Rather a lengthy tale of nasty court politics in England in the 1570s and 1580s and, in France, espionage, murder, and general mayhem in aid of Mary Queen of Scots and/or the Spanish Armada. It's a "true story", too, or meant to be, sort of. Illustrations included in the Web version (not in the 1.7mb PDF). Advance to the index page (no credit cards or adult authentication required).

---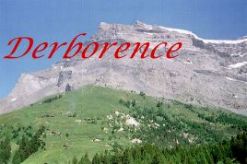 Slightly smaller but still pretty big story. Derborence - a new translation (by Dwight) of Charles-Ferdinand Ramuz's classic tale (1934) of peasant life in the Swiss Alps in the 18th century, when the back half of the Diablerets mountains fell off and buried all of the summer high-mountain livestock grazers -- but, months later, one of them came home! And then went back! The great plan was to illustrate the story with lots of evocative photos of the place today, but for the moment the haunting Ramuzian prose will have to suffice. This is a must read for all sentimental mountaineers, nostalgic peasants, and unashamed poetical spirits who admire family values and ghostlike apparitions. Advance to the Intro page.

---
---
Quite a few more stories, some perhaps semi-true. Robert Dudley (1532?-1588), Earl of Leicester and Queen Elizabeth's long-time favorite, was the subject of scandal from the very beginnings of the Elizabethan era in England (1558-1603). Study of the black legends surrounding his life, times, and putative crimes provides insights into the political, social, religious, and administrative history of Britain and lots and lots of furtive and ribald fun. Mr Peck spent many pleasant hours pursuing these matters and writing up his results, quite a few years ago, and somewhat later, scanning them and posting them all here. At least all of them that can still be found under piles of NYRBs and behind the sofa cushions. Here is a menu of 16th century diatribes, libels, and screeds, parental guidance encouraged for some of them.
---
Q.: Do you know why you're here?
A.: No, I'm afraid not.
Q.: Well, do you have any questions then?
A.: No. Can't really think of any.

Dwight Peck
(, www.dpeck.info)
Last updated, 19 May 2023
| | |
| --- | --- |
| The view from home, 2014-February 2019 | The view from home, March 2019 - |