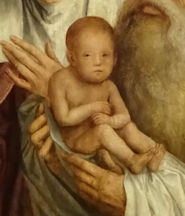 Dwight Peck's personal website
Special Features
---
---
'Maybe everybody should have a hobby.'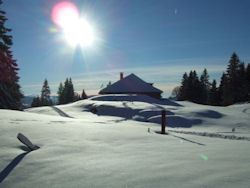 Farms of the Jura. A photo series on the communal farms of the Swiss Jura mountainsin the dead of winter -- growing like Topsy, some 75 or 80 wintry farms up now, and only one taken down because of a private-property owner's concerns about increased littering on the premises.
Holes of
the Jura. The Swiss Jura, in the Mont Tendre region, is made largely of limestone and in many places has washed out in dark holes and chimneys small, medium-sized, and frequently gigantic. There's great sport to be had in seeking them out in the snow, darting up close for a snapshot, and backpedaling frantically, giggling in triumph. The Grand Search for Holes. [gazing in fascination into a hole, photo right]
Snowshoeing in the Jura.Rudimentary lessons on how to go about enjoying this popular winter sport, and also on how not to.
Swiss towns and villages (some of which we've dwelt in). Right here. Supplemented by views of Staunton, Virginia, USA (in which we're dwelling now).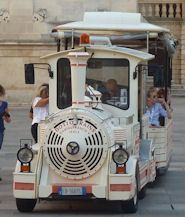 Tourist trains of Europe. Spotting the ubiquitous Dotto Trains from Italy, and the more elusive Tschu-Tschu trains from Germany, in the fashionable tourist destinations all over Europe. Clang clang.
Steamships of Lake Geneva (Lac Léman). The fleet of eight "Belle Epoque" lake steamers and assorted other vessels, on Lake Geneva and selected other lakes elsewhere. Climb aboard.
Forest refuges of the Jura. Photos and descriptions of a bunch of little one-room huts stuck out in the forest, good to memorize in case you twist your knee someday out there whilst hiking along dreaming of your future career triumphs and not watching where you're going. Crawl in here.
Cats with character. Melvin the Doge (b. 10/2016), subsequently joined by Choupette (b. 11/2018), vying playfully for dominance. Here they come!
Some running pix, from back in the day. A few world relay records, half a century ago, and assorted other sporty escapades. Huff puff.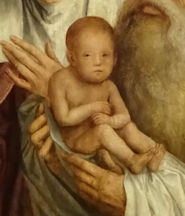 Collectibles: Odds and Ends. Photos of various things we thought were pretty funny at the time, like Beheadings, Martyr-Saints, Nursing Madonna,
Funny Baby Jesus, Last Supper Menu, Kristin & the Lions, Penitential Mary Magdalene, and Joachim Beuckelaer. Maybe good for a laugh.
Various travels.Despite exceptionally strong instincts towards gazing for long hours off the balcony at Swiss scenic vistas with a chilled bottle of beer firmly in hand, from time to time Mr Peck has been gratefully dragged away to other venues. Selected travels and visits since about 1980.
---
---
Physiognomy (Herr Peck's and a few others). An essay on faces and what they sometimes reveal or don't. (And Kristin's as well.)
Something else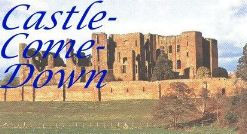 Big story.Castle-Come-Down - faith and doubt in the time of Queen Elizabeth I.Rather a lengthy tale of nasty court politics in England in the 1570s and 1580s and, in France, espionage, murder, and general mayhem in aid of Mary Queen of Scots and/or the Spanish Armada. It's a "true story", too, or meant to be, sort of. Illustrations included in the Web version (not in the 1.7mb PDF). Advance to the index page (no credit cards or adult authentication required).

---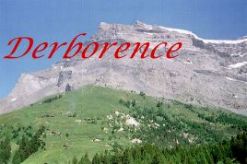 Slightly smaller but still pretty big story.Derborence - a new translation (by Dwight) of Charles-Ferdinand Ramuz's classic tale (1934) of peasant life in the Swiss Alps in the 18th century, when the back half of the Diablerets mountains fell off and buried all of the summer high-mountain livestock grazers -- but, months later, one of them came home! And then went back! The great plan was to illustrate the story with lots of evocative photos of the place today, but for the moment the haunting Ramuzian prose will have to suffice. This is a must read for all sentimental mountaineers, nostalgic peasants, and unashamed poetical spirits who admire family values and ghostlike apparitions. Advance to the Intro page.

---
---
Quite a few more stories, some perhaps semi-true.Robert Dudley (1532?-1588), Earl of Leicester and Queen Elizabeth's long-time favorite, was the subject of scandal from the very beginnings of the Elizabethan era in England (1558-1603). Study of the black legends surrounding his life, times, and putative crimes provides insights into the political, social, religious, and administrative history of Britain and lots and lots of furtive and ribald fun. Mr Peck spent many pleasant hours pursuing these matters and writing up his results, quite a few years ago, and somewhat later, scanning them and posting them all here. At least all of them that can still be found under piles of NYRBs and behind the sofa cushions. Here is a menu of 16th century diatribes, libels, and screeds, parental guidance encouraged for some of them.
---
| | |
| --- | --- |
| The view from home, 2014-February 2019 | The view from home, March 2019 - |