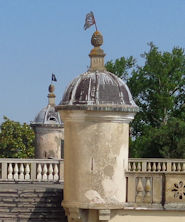 Dwight Peck's personal website
The Veneto region in May 2017
---
---
You may not find this terribly rewarding unless you're included here, so this is a good time for casual and random browsers to turn back before they get too caught up in the sweep and majesty of the proceedings and can't let go.
The Castello del Catajo, Battaglia Terme
---

Betussi's and Zelotti's festival of Obizzi family history frescoes
---

Feedback and suggestions are welcome if positive, resented if negative,

. All rights reserved, all wrongs avenged. Posted 11 August 2017.