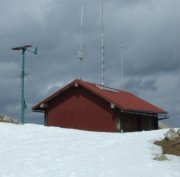 Dwight Peck's personal website
Pointe de Poêle Chaud
---
On a sunny late afternoon in November 1999, Prof J. J. Pirri charges recklessly up the Pointe de Poêle Chaud from the direction of Pointe de Fin Château to the north.
Dr Pirri's hiking companion urges moderation and at least some care . . .
. . . in vain, as Prof Pirri scurries upward in a headlong rush for the summit, which . . .
ends badly and takes a while to get sorted out again.
Had the hiking companion been a little more alert and got the camera out a few seconds earlier, viewers could have enjoyed several shots of Dr Pirri still much funnier than these.
Time now, chastened, to resume our upward journey.
Prof Pirri trudges much more circumspectly up into the late afternoon sun over the last part of Pointe de Poële Chaud, November 1999 . . .

. . . and, once there, alongside the radio station at the summit, gazes across at La Dôle.

Prof. Pirri leaves Pointe de Poêle Chaud, vowing to come back again soon.




Along the ridgeline looking southwest towards Pointe de Poêle Chaud, February 2000.

Weather station at the top, 2005
[I learnt later, thanks to P. Misteli, that this is actually the amateur radio French-Swiss relay station La Glutte]
---

Feedback and suggestions are welcome if positive, resented if negative,

. All rights reserved, all wrongs avenged. Posted 22 August 2002, revised 12 May 2007.