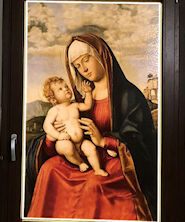 Dwight Peck's personal website
A return to Italy after too long away
---
You may not find this terribly rewarding unless you're included here, so this is a good time for casual and random browsers to turn back before they get too caught up in the sweep and majesty of the proceedings and can't let go.
Ascoli Piceno's neighbors: Ripatransone

[The Città del Sollievo designation, or City of Relief, is a network of Italian cities, sponsored by the Foundation Gigi Ghirotti and the National Association of Italian Municipalities, that have undertaken to promote a 'culture of relief' through support for social-health organizations, volunteer associations devoted to the 'care and acceptance of the suffering person', and humanization of care, especially home and hospice care for terminally ill patients (as the journalist Ghirotti was).]

-- Who are you? What do you want?
-- Give him a couple of bucks, he'll leave us alone.

Donna Bianca Benvignati Tharolis is said to have been a Ripani noblewoman who, a few years after the 1515 sacking of the city by a rogue band of demobbed Spanish mercenaries, was disheartened when the men of the village proposed negotiating with another band of Spaniards gathering outside the city in 1521, so she organized the noble and peasant women of the town and rushed the enemy, capturing their battle flag, thus emboldening their own menfolk ('Bianca, with the enemy banner, her long hair in the wind, incited [them] to battle by setting an example'), and the Spaniards backed off. [Google Translate] The old story's captured in a poem or play by Mercantini.
| | |
| --- | --- |
| | |
---

Feedback and suggestions are welcome if positive, resented if negative,

. All rights reserved, all wrongs avenged. Posted 17 February 2023.