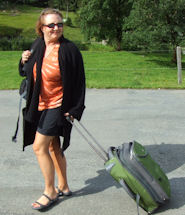 Dwight Peck's personal Web site
Summer 2008 -- Kristin and the Bernese Oberland
---
Rosenlaui, and a peek down the chimneys of Grindelwald
You may not find this terribly rewarding unless you're included here, so this is a good time for casual and random browsers to turn back before they get too caught up in the sweep and majesty of the proceedings and can't let go.
The next day dawns fine, and stays fine even as, quite a while later, we get down to breakfast and start planning our day. And now here we are back at Schwarzwaldalp in the plein soleil, just as the narrow postal bus arrives to fetch us up to Grosse Scheidegg.

Departing our bus at Grosse Scheidegg again, we're setting out on the far side of the pass towards First (2167m), the large skilift installation a kilometre or so directly up the hill from the well-known resort village of Grindelwald (940-1060m).

From Grosse Scheidegg pass, belatedly we get to see where yesterday we were walking all about the countryside in foggy ignorance.

Turning the other way round now, that's the Eiger in the centre, the pass of Kleine Scheidegg down its right side, and Grindelwald down in the valley. (Last weekend we were just over the far side of the Kleine Scheidegg ridge, near Mürren. The white blotch on the far right is the Schilthorn.)

A Fujizoom of the Eiger Nordwand, or north wall, from Grosse Scheidegg. Most of the landmarks familiar to fans of the classic mountaineering literature -- 'death bivouac', 'Hinterstoisser traverse', 'white spider', 'traverse of the gods', 'flatiron' -- can sort of be picked out here.

Fewer famous classic landmarks over this way, but nonetheless that's our destination for today, First, the collection of skilifts and restaurants on the upper left, just under the Reeti (2757m) and Simelihorn.

A glance back southeastward, as we rattle along, at Grosse Scheidegg pass (the GS berghotel is just off to the far right), with the Wellhorn and Wetterhorn beetling behind.

Another Eiger Nordwand view -- and more classic landmarks, seen from a safe distance

We Are Not Alone! This "hohenweg" or higher path is a splendid hike for British families with bouncy kids, geriatric parties with canes and sun hats, hardy Japanese multigenerational groups, large bulging gentlemen with binoculars round their necks, and us. A well-groomed path more or less level the whole length, with public transport at either end -- a justly popular and well-populated path.

A tiny hamlet called Oberläger (1948m) -- not OUR Oberläger, the pig farm (or farm with pigs) on the other side of Grosse Scheidegg pass -- this is the other one. Explanation below.

Rocky ravines almost everywhere . . .

. . . with helpful bridges over them all.

Nothing so lovely as an alpine creek babbling

A marmot abode! Kristin loves nothing so much as a marmot. (Except a pig.) This helpful sign says (in German [Murmeltier] and English), "We hope you've been able to watch lots of marmots on your hike. We'd now like to give you some more fascinating facts for the return journey. / Marmots are members of the squirrel family (Sciuridae) . . . ." etc., etc. What a scam.

This is the only marmot we saw all day.

We're approaching the lift station at First now (2167m), a little behind schedule perhaps. We'd planned to continue to the Bachsee (2265m) an hour's walk farther along, but doubts are beginning to form.

Nevertheless we persevere. This is the onward path towards Bachsee, marked out with botanical info plaques, with Reeti still in the background.

A look down at the summer hamlet of Bachläger (1983m). In 1999, Marlowe and I came down that tiny path from the Bachsee under the cliffline on the far side and made it to Grindelwald in time, as I recall, for an enormous dinner.
Grindelwald way down in the valley below
Topping out at 2260m and ready to give up on the Bachsee for this trip

More scenic vistas along the way

Departing out the same door we came in by
A vigorous Tourist Office runs this place, and takes good care of it.
(They certainly took good care to put Grindelwald onto the Japanese itinerary, with by the early 1990s street signs in Japanese and Japanese salespeople in every sports and souvenir shop; that was one strategic decision that seems to have paid off.)
Encouragingly, some of these folks were in their mid-nineties and, although very tentative, still having fun.

Back to Grosse Scheidegg in good time for the bus down the hill, whilst the old narrator decides to take another knee-test and plunge straight down à pied.

"Alpine View". A farm called Spycherboden (1966m) and the Wetterhorn.

Back at the OTHER Oberläger, our farm with pigs, with yesterday's path winding up into the upper left corner towards the Hornseeli lake. The official Swiss topo maps call both of these hamlets "Oberläger" but evidently this one is really "Scheidegg-Oberläger" and the other one on the other side of the pass, "Grindel-Oberläger".

Leaping off "Scheidegg-Oberläger" without a parachute.

The glaciers between Wellhorn and Wetterhorn as we plunge towards the earth and dinner.

Probably (as I read the map in the comfort of my drawingroom later), that's the snowy Mittelhorn peeking out from behind the Wetterhorn on the far right.

Bucolic scenes, with the Rosenlaui side of Grosse Scheidegg on the ridgeline.

A peaceful postcard scene, and a soft grassy path wandering past it

Same views but from 300 metres lower down

Grosse Scheidegg again, Eiger in the distance, from a cluster of huts called Bidem

Same old ranchhouse at Bidem, ca.1700m.

Down a bit malkneesically to Schwarzwaldalp and then along the pleasant walking path beside the burbling Rychenbach to see what Kristin has got up to down at Rosenlaui.

Rosenlaui hotel with, could it be?, scents already of Eichhof beer?

Not likely. Eichhof, though brewed not far away in Lucerne, has no scent, and very little taste -- it's sadly just one more Euro-lager, not unlike Bud in the States, but Rosenlaui serves it very cold and after a hot day out working on our tan it's hard to imagine anything better.

Except ice cream. No, we'll stick with the Eichhof, and they don't go together at all.

Late afternoon on the terrace at Rosenlaui hotel, with an Eichhof gripped firmly in hand

Preparing for dinner, with a "can't put it down" sort of novel, Larry McMurtry, When the light goes (2007)

Tomorrow, a look-in at the Glacier Gorge, one of the famous attractions in the immediate region.
---

Feedback and suggestions are welcome if positive, resented if negative,
. All rights reserved, all wrongs avenged. Posted 29 August 2008, revised 30 May 2013.