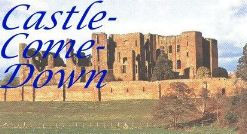 Dwight Peck's lengthy tales
Castle-Come-Down
faith and doubt in the time of Queen Elizabeth I

---
Part 1. ENGLAND (1577-1583)
CHAPTER VIII. LEICESTER TRIUMPHANS
(1581)
"More faithful than fortunate."
-- Arundell
Declaration of Charles Arundell,
31 December 1580
My lords, with protestation of all loyalty and well meaning. My lords, on Sunday last, being Christmas day, the earl of Oxford desired secret conference with me, whereunto I assenting, we met in the evening at the Maids' Chamber door, and after long speeches in secret between him and my cousin Vavasour, we departed thence to have gone to the garden, but the door being double locked we could not get in. Then we returned to the terrace, and there in the farthest part of the low gallery, the said earl used this speech unto me:
"Charles, I have ever loved thee, and as you have already given your word to my mistress, so now I crave it to myself."
And after some assurance of secrecy given, he unfolded to me all his treachery, using many cunning persuasions to make me an instrument of dishonest practice against my Lord Harry and Francis Southwell, with the proffer of one thousand pounds to affirm that they were reconciled to Rome by one Stephens, a priest. I so much misliked this motion as I persuaded the said earl from so dishonorable a purpose, protesting before God I neither knew nor ever heard of any such thing.
"Well, Charles," said the earl, "Stephens is taken and racked and hath confessed, and therefore I wish you as a friend to depart the realm if you have faulted as far as others."
Whereunto I answered that God I took to witness, I myself am free of such offense, and so I am persuaded of others.
"You are deceived," said the earl. "Southwell hath betrayed all; therefore if you will be gone, which I wish for your safety, Litchfield my man shall shift you away, where you shall remain for a time at a house of mine in Norfolk or Suffolk"--I do not well remember which--"and then but over the sea. You shall have a thousand pounds either with you or bills for so much, and when you are gone I will find the means to send unto you, and if the sale of a hundred pound land by the year will do you good it shall be sold, rather than you shall want."
I liked so ill of this unsound counsel as I utterly refused it. The end was then my lord fell to a plainness and told me that he had confessed to the queen that he was reconciled and that he had his pardon, and if I would be ruled by him he would save me. I thanked him much but refused his counsel. His drift, as I could find it, was to this end, that by my flight he might be freed of his monstrous dealing, and others brought to more suspicion.
Thus much for his dealing with me then. Touching Stephens, as I did confess unto your honors, the earl, being grieved in conscience about some point, about a few years since, desired conference with some learned man, whereupon I brought him unto Stephens.
My good lords, I have most plainly unfolded before your honors my knowledge in all points, not concealing anything to excuse myself, nor adding more than truth to harm others. I therefore humbly crave your favor in this my perplexed estate. My restraint of liberty troubles me nothing, but the disfavor of her majesty grieveth me much. God I take to witness I never faulted against her majesty's person. And as no man hath more cause to honor and serve her than I, so hath no man held her virtues more in admiration, nor defended them further, when some others have not been so forward to perform that towards her highness which in duty they ought to have done. As this is true, so God deal with me, and dispose your minds to do me good, who resteth more in your charity than I am able to express. Your lordships' wholly to command, more faithful than fortunate,
C. Arundell.
(The Narrative of Lord Henry Howard)
There was in very ancient time, in the kingdom of Agrigentum, a craftsman of exceeding skill and cunning in his art, whose works were known and sought after from Persia to the Pillars of Hercules. Perillus was his name, and such was his excellency in the curious working of metal as he could fashion birds which sang and fish that swam and brazen horses which cantered down the road. Then, on a day, his king gave him summons, Phalaris the tyrant, worse than a beast in his murderous cruelty. Perillus, said the king unto him, you are the surpassing artist of this age, and I am the cruellest tyrant living, and so we must join together in a paragon work full worthy of our fame and greatness. Do you your part, and I shall do mine, and beside the reputation we shall have, you shall be so largely rewarded as never after shall you and yours have cause to think yourselves ill used.
Taking this commission in the same part as wicked Nero's men did his, when he said to them, Scitis quid velim, et quibus opus habeo (You know what I would have, and what I have need of), this man returned unto his workshop, imagining with himself what special wonder of his science he might now conceive and execute, esteeming himself (having heard this tyrant's flattering words) the greatest in his art since the world first began.
For many days together he sits and thinks, calling continually upon his pagan demons to inspire him, possess him I should have said, until at length, up he leaps and incontinently he sets to work, measuring and sketching, sawing and building, alloying his brasses and pouring his molds, and fashions him a brazen bull of full size as in life, with outside so like a very bull as might befuddle the agrarian onlooker, and hollow within, containing room for a supine man or woman in its bowels, where his face might just be seen at its open mouth, and his bellowing mistaken for the bull's. And all hidden in the hide of this metallic beast are conduits of fire, fed from below in a furnace in its belly; whereby a man might be inserted, and the great bull heated as was Moloch, the idol of the pagans, into whose arms tiny babes were laid in unchristianly, nay unhuman, sacrifice.
And so returns Perillus to his king, sitting with all his court, and says, Lo your majesty, see the fruit of my travail, and in is wheeled the brazen bull, which he then explains in its nature and operation unto Phalaris, who says to him, Without all question, Perillus, you bear the bell in matters of the metallic arts, and are truly worthy of your fame.
And as I promised you, says the tyrant then, I who am no less worthy of my fame too, shall join with you in a work of consummate cruelty, that together we each shall rival other in adepted superiority in our kinds.
And the perfect act of cruelty, he announced to his court assembled there, is not to thrust a tiny babe within this fiery bull, nor a great-bellied dame with the half-formed fruit in her womb, for they are works of very great cruelty, but not of a cruelty worthy of the art of my companion in perfection. The perfect act of cruelty which I propose to offer to my friend, equal to his preparations here, is to thrust himself within this bull.
Which he doing, soon the court is filled with the screams and lamentings of this over-crafty Perillus, whose painful creation, so cunningly and arduously over long time worked, returned upon himself its special pain.
The allegory of this tale is as the following. This Oxford was a foolish, worthless boy when first we took him up, fit to swell a lace shirt or cross a lance at the barriers or pen a verse to make the ladies weep, but never a man to hear affairs of state. But I so worked upon him to make him one of ours that soon he was so far in as he must learn to swim or sink. Though never any traitor myself, I did school him up in petty treason, complaining to him of the present times and of this redress and that strained course, until like my bull all brazen I had me a faithless monster fit for any perfidious deed. Then enters our English Phalaris, whose perfect cruelty is to stuff my hapless carcass in my own invention, and roast me up to heaven with my own devices.
Well, it may be I am overly hateful to myself. Mr. Arundell tells me that I flatter me in thinking this monster one of my own doing, for he says that Leicester has trained to him stronger men than Oxford, and that this graceless boy was fated from his birth to be the ruin of his friends. However that may be, here we are in our brazen bull, and there sits Phalaris laughing apace from his throne of great estate.
Here is the tale as it fell out. This foul beast, sometime our companion, had drawn away from us through his own waywardness and obstinate malignancy (not by any words or deeds of ours), the more quickly when the hope was lost of the queen's marriage which might have altered our condition. At that time, the shadow had crept over us. I have, I warrant you, lain under shadow before. At the time of my brother's fault, I came very near being touched to the quick, through no misdeed of mine. Some while after, one Cockyn, the queen of Scots's man, came braying into court, and I was somewhat looked to for a matter of too much sympathy for her plight. So I have been under shadow before, and come out into the sun again, and will do again on this occasion now.
But when Monsieur's cause was given up by the wiser heads of the realm, though we were touched with no particulars save friendliness to that match, and no more friendliness than the queen's, yet were there certain great personages at court who were pleased to vaunt upon us there, for that we no longer seemed destined, perhaps, to sit beside a king, dispensing justice and preferring suits and other the perquisites of victory; so that it was but a little shadow then, of less favor than a little while before. Notwithstanding this, this Blue Boar of Oxford perceiving, he becomes a little distant, and he beards us with his insolent quips, and some unfriendliness accrues among us.
Here Arundell said we must forbear to trouble the earl, for it was plain he bore us no more love, but I disagreeing, we sometimes thought to steady him by chastising his worse faults and deprecating his great vices; which he conceiving ill, he sets his lecherous aim upon our little kinswoman, a chaste virgin but newly come from the country, and pursues her with the only intent of dishonoring all her tribe who loved her. Well, he wins the silly girl, I know not how, and what should we hear, not four months later, but that her belly grows. Here the turd is in the porridge; when the queen learns of this, not many of Nan's friends but will enjoy some unkind looks. All is whusht; the silly girl pukes away her days in the Maids' Chamber, and all the while my lord of Oxford strides through the court as proud as Solomon having begot ten thousand brats.
Upon a day, when many gentlemen are gathered in the Presence Chamber, Sir Henry Knyvet, whose sister was the child's good mother, can bear the Boar no longer, and he turns from us standing near and dashes the earl in his face with a glove and calls him by the name of whoremaster. Oxford steps back much agrised, to be named so before all these worthies present, and then he tries to good-fellow it away with bending near Sir Henry with a friendly clap upon the shoulder and says, "Oh, my Henry, I did but do what love calls all men to."
But Henry, all trembling with his fury, scowls and hisses at him, "And now you shall do what fatherhood calls you to," and stalks away.
My lord stands much abashed. By this we see that he himself knew nothing of her state. I look around--then I see what chills me--standing some way apart with other lords, my lord of Leicester smiling towards the doltish earl as conversation flies about him. When you have seen Leicester smiling, you know what hell holds for us in waiting. Fearful lest Phalaris may have heard, I hurry from the chamber in a sweat. There is nothing now to do but wait.
Not a week later, I am riding through the King's Street Gate in Whitehall, where I have come from dining in Westminster with Mr. Stafford and my cousin his new wife, and whom do I see, riding towards me past the Tiltyard Gallery, but Oxford and Leicester together, with Pembroke and some other of that faction, and as they pass me Leicester tips me his bonnet and smiles in great courtesy, whilst Oxford stares stonily ahead, as though I had been a one-legged veteran seeking alms. This frights me so that I gallop straight to bed and spend the night in saying prayers.
The next week, being Christmas, or not but a day or so after, Mr. Arundell sends his man round to Arundel House and especially desires that I come at once to his lodgings in Blackfriars, where he must tell me news that no man else must know. Again, a premonition seizes me, an awful sense of never finding any rest, of dangers still to haunt me ever; as if I had been a viking sailor of old time, weary of traversing endless seas, who having come finally to land, and desiring much to make his home at last, throws over the board his high-seat pillars to follow them to his destined landing, and finds them borne away again, far from land, out to trackless wastes of seas, where fate will have him follow them to the edge of the world. I am sometimes given to such conceits, fetched sometimes from very far off.
I take my man Gardener and run down along Thames, past the Middle Temple, to the Bridewell stairs, then across the ditch into the Blackfriars, by these little used ways, to the Priory Mansion where dwells my friend. There I find me by the fire Mr. Arundell and also Mr. Southwell there, and Mr. Arundell's friend, a tavern lady of the baser sort whom he loves to have about him. In this room, by this good fire and cheered in vain by this good wine, I hear such a tale of wretched double dealing as I have not heard since Leicester had my brother to the block.
"My Lord Harry," he begins; "this very night our friend has called me out, and tells me we are lost, and offers me huge sums if I will join with him against you."
The whole event were needless to rehearse, but in sum it comes to this: Oxford would have Charles to confirm a tale told to the queen, that Southwell and myself were reconciled to the pope. That taking none effect, he tells him Southwell has confessed all, and would have him to flee the realm for his safety. That likewise taking no effect, for Arundell did very well know that he had left Southwell here playing at cards with Mistress Kate, then he confesses that he himself had broken to the queen God knows what horrible mendacities to our enduring prejudice.
My first thought, made in haste, was that flight indeed were best, for here was no safety when, as I now informed my friends, Oxford was borne out in his senseless fabrications by so cautelous a knave as Leicester. But this counselling to action was Curio's advice indeed. Arundell had surer footing here, for it seemed to him that all was not yet lost.
"For look you, Harry," says he sagaciously, "assume he has whispered stories in the queen's ear. What else must it mean that he seeks to suborn me to his aid, but that the queen does not believe or credit him?"
"Then what?" said I.
"Then wait," said he.
So wait we did. We passed the night in Charles's rooms, a pretty foursome playing inattentively at cards, leaping at every small sound, expecting at every instant to hear the square below was filled with guard, rehearsing over and over again how we must answer jump together to anything the earl may charge us withal.
It was Mistress Kate who held our courage up, for with never a word all night she sat like the stoical philosopher and kept us to our game, lest we might gnaw our fingers to the elbows and bepiss ourselves with agitation.
After some little sleep, we arise in the morning and wait still. In late afternoon, we hear a shout below and a crash in the hall. Then in comes a servingman hoist between Sharrock and my man Gardener. He comes in haste from my Lord Chamberlain, he says, and requires us in his master's name to take boat to Bermondsey at once.
Well, so we do. As we depart Arundell's lodgings, he quickly embraces Kate and bids her never worry, and she nods to him with wet eyes and pushes him on his way. This, he says, he fears will be the last occasion he will see the woman for some time, maybe. She was a kind woman, and though past her flower, yet not ugly; and it may be that Charles thought of her as more than just his whore, though he never said as much, or anything at all, of her, not then, not ever.
I alighted near my Lord Montague's house in Southwark, for I have a settled fear of racing the bridge in light or dark, and walked as hurriedly as I might past St. Olaf's towards Bermondsey wharves, and at the wharves I found my companions attending upon me. Thence to my lord of Sussex's house a little way along, where the earl met us himself at the outer door and conducted us into the long gallery.
Lord Chamberlain, Thomas Radcliffe, 3rd earl of Sussex (1526?-1583). National Portrait Gallery
My Lord Chamberlain was looking none of his best, his thin frame stooped more than usually and his high, bare forehead drawn down in a scowl of worry. His health seemed somewhat in decline of late, whereat we grieved, for he was a true friend to all worthy men, and but for his life of cares should have had many years of service left to him. Nowhere in the realm was there a more persevering enemy of the earl of Leicester, nor anywhere at court a weightier counterpoise to Leicester's sway.
Now he sits by the side of the fire and looks us up and down from under weary lids, and tells what has passed at court. Leicester, he says, works upon the wanton Oxford, no two men more together these past weeks, and at last wins him willingly to serve his turn. He picks a time when M. Mauvissière speaks with the queen, myself (says he), the Lord Treasurer, and some other, about some matters of France, and presents Oxford with these words, that the rot of papist treason which imperils all the country he finds begins in London not in Rome, and that some of those whom her majesty most trusts are not uninfected.
"The queen," he says, "seems amused to hear the earl whistling his old air, but begs him proceed with his tired play. Leicester nods to Oxford, who steps forward and blurts a tale of papistry, accusing himself, and you Harry, and Charles, and yourself Mr. Southwell, of being reconciled by a Jesuit known as Swithins upon a time and of attending the mass very often since. Himself, he says, is repentant, for he has learned the disloyalty in these courses, and begs her majesty's pardon both of his error and of anything these unrepentant papists may falsely charge him with in spirit of revenge.
"Her majesty then smiles a little, as one who humors some brabbling boys, and says she has long known of your religion and would gladly close her eyes to it, more specially as you were her kinsmen and had friended her in her late marriage, so long as it were never seen to reach further. "At this my lord of Leicester says, Your highness, I am truly sorry, there is more; upon which Oxford, his eyes starting out of his head, swallows and says that, three or four years since, these gentlemen and him had sought to bring the Frenchmen in to succor the queen of Scots, whom foolishly they had thought the great mistress of their papistical cause.
"Here her majesty grew annoyed and sternly warned him, Oh, my lord, now you go too far.
"And your friend Oxford, fairly dead of fright, gentlemen, turns to my lord the French ambassador and instantly craves him to corroborate his tale. M. Mauvissière scratches his head and says he cannot think where the earl has dreamt this dream, but perhaps they mistook another for himself and broached their filthy treasons to some apprentice or waterman who but spoke a little French, or had similar moustaches. For his own part, he had made no such vile conversations with any man, and would not, never.
"Hearing this, but thinking God knows what, her majesty bids the earl to retire, and commands him to bethink himself of what next he will confess to; and Leicester and Oxford retire together, whilst we remain, never a word spoken more on this head."
Mr. Arundell puts in here that this is where my lord of Oxford bids him flee the realm, and he tells the tale to my Lord Chamberlain. "Then," says Sussex, "I find today that Leicester has got him up a long paper of treasons, writ in Oxford's name, and brought it to the queen, who fronted thus boldly exclaims that now she has no choice, alas, and must summon you gentlemen up, but only for examination of these causes, and not for any punishment till these matters be well sounded.
"Hatton she bids to have his guardsmen attach my lord of Oxford and convey him to the Tower, whereat Oxford wails his grief, but she is adamant and avers she will learn the bottom truth or he will rot there. Then Walsingham she beckons to her, and says, Mr. Secretary, write you your warrant for these men, but have them brought without any violence, for no crimes have yet been proved. But Mr. Secretary draws from his bag his warrants ready drawn, and the earl of Leicester turns vauntingly to me and says, good my Lord Chamberlain, know you where these men are hiding? To which I answered him, Hiding I know not, but reposing they are, as I have heard, in Clerkenwell, at the house of Sir Matthew Arundell--hoping, you see, that there you would not be. What you will do in this I know not, but I could not bear to see my friends caught up by the heels so, with never suspecting of their danger."
We thanked my lord very earnestly for his care of us, and then I endeavored to explain what little truth lay in Oxford's words, but my lord catches me up and says, "No, Harry, I am not to know of anything, neither innocent nor guilty, true nor false, saint nor devil, all is mum." My lord stares into his fire. "Gentlemen, you must know what is yet a close secret, that Monsieur's matters are again taken in hand, though lightly. But it may be that with care and labor we may marry our queen at last and thrust this Bear aside; which he knowing, my lord of Leicester now endeavors to subvert the duke's old friends and prevent this bud from shooting up and flowering in his nose.
"So much," says Sussex, "we may explicate with ease, for Leicester seeks my harm any way and has found you gentlemen conveniently to hand. But yet I do not see why Oxford should join with my lord in this."
But Arundell ventures then to say that it is Nan Vavasour who lies in the back of it, for, he says, my lord knows that her parturience must one day come out (so to speak), and that he may well be charged with the getting of her brat, and so now he seeks to make us his known enemies, in order that when we come to charge him with paternity it will seem but vengeful lies and factious spirit.
"Well, gentlemen, however this be," my lord says, rising from his seat, "you must forgive me now, for I am expected. Pray, do as you list for your safety's sake, but think no disloyalty of the queen, for God's sake. You will find me your constant friend, wherever lawfully I may be." And thus we departed the house and considered what we must do next.
What a quandary were we in! Unclothed we were, or nearly so, for the cold came in despite our double jerkins; and unhorsed, for we durst not return to our own; and unhoused, for after first thinking to dash to Montague's house hard by, we reflected that we must not bring our friends in peril. I do confess I was ready almost to throw me into Thames and be done with fleeing, hiding, and all.
Passing the bridge gate by Mary Overies, we decided against re-entering the city, and walked on through the darkness along the Bankside with never a thought of how to help ourselves. Then Charles suggests our seeking refuge in the French ambassador's house, but that we cannot do, for we must not think the ambassador inclined very far to help us, and half believed he might turn us out to the watch with no ceremony at all.
A gelid hour passed, and brought no help, cowering in the alleys and under Bankside eaves. We shook with the bitterness of the cold. Then Mr. Southwell, with a little cry of desperation, and tears coursing down his chaps, says he can bear no more of it, and he must go home to his bed and let the devils do their worst. Restrain him we could not, for he flung us away and hurried to the bridge. As after we learned, to bed he went, but found there company he did not wish to have, and spent the night in ward instead. His leaving of us cast us down our last length, and Mr. Arundell and myself had nothing but frozen cheer for one another now.
Then I saw my answer. All unwitting, wandering aimless through Southwark streets this night, past the Bishop of Winchester's house and westward, past the Clink prison on the river side, we have come to stand before the Spaniard's house. I pull my comrade into the corner of the street, and then we turn the wager over in our heads, and decide to play the hazard.
Don Bernardino de Mendoza was little loved at court. Many thought, as Leicester would have us all to think, that not many days hence we should be at open wars with Spain. Already we slew Spanish in America and upon the seas, and Mr. Drake had not long since returned from his bloody plundering of their treasure round the world; and already we slew Spanish in the Flanders wars, where the English volunteers (as they were given out) did line up with the rebel force on every foughten field. Mendoza made no scruple to warn the queen of what end these jars must come to, with the mention of a fleet of ships or so to fright her from such courses.
And to our English, this ambassador was no less than a devil. For the greater the man's virtues who is on the Catholic side, the greater villain he is here in our pulpits; and in the scant two years since he had come, the very name "Mendoza" had become the preachers' cant-word for the hungriest hound of hell.
Some of our English Catholics, oftentimes subverted in their minds, had been driven into Don Bernardino's arms, for he was said to encourage almost any desperate act against the Protestants. But this was whispered rumor; never had we had cause to speak with him, for in the time of the French match his only use was to detract from those who favored it, its ill success pleasing him more no doubt than would a sight of the Blessed Virgin.
We were at our wits' ends, standing in that dark night shaking with the cold, homeless and hunted, facing we knew not what horrors if taken, both of us more frighted by the Tower of London than a child is by the hairy bugbear. We decided that here was a deed must be done, here was a step which must be walked.
We separate by back alleys to approach the house by different ways, slipping through the dark as noiselessly as may be, until each coming up from our several directions, we are sure we are not seen by any. We pound upon the door. A servingman admits us, but he speaks not a word but Spanish, in which tongue we are as babes, so we fall to saying "Mendoza" which will sound the same in all tongues.
The ambassador himself we come upon in his study, fully dressed and rising from a table full of papers. He bows to me and addresses me graciously and says something further which, though intended to be plain English, sounds rather like a list of Dutch forts. Speaking slowly I introduce to him my friend, whom courteously he says he has often seen and much admired at the court and now is very glad to know him better. Then he brings us in a little secretary with the unhappy name of Oberholtzer, or something like, who stands before us with shirt untucked and hose about his knees, and haltingly we begin our conversations. His attitude he uses towards us is all politeness and persiflage, as if we had chanced to meet while strolling in Greenwich Park. So we must enter the matter without his help, and thus I set about explaining the desperate pass in which we find ourselves, how all upon a sudden my lord of Oxford comes after us all bilboes and chainshot and crying "No quarter" out upon us. Of its antecedents, I tell him only that my lord of Leicester loathes us for our Catholic Christianity, and seeks by use of Oxford treacherously to ruin us and compromise the Lord Chamberlain at once, who has always counselled the queen to peaceful courses with the king of Spain.
Don Bernardino, having listened with great interest, replies that he considers my lord of Sussex his true friend and rates him the most honest man in England, for which cause he is grateful for the chance to succor his lordship's favorers. What is more, says he, he and his king do love and cherish the good of the unfortunate queen of Scots, and he especially congratulates himself in being able to aid one whom all Europe admires for her true servant--meaning myself. I know not whether he spoke in good frankness, but I must needs say I shrank a little to hear that all Europe talked of my small service in that quarter, for if all Europe knew then what must Walsingham suspect!
Accordingly, Don Bernardino honoring us like ally kings, we beg him to extend to us his secret hospitality but for a short time, till we can find our bearings in this fog we wander in. And he will say no more; he takes up a light and leads us to the uppermost floor, where is a garret of sorts where we may lie, unobserved even by those of his own house, and there he leaves us, with many wishes for as pleasant a sleep as may be. For the next two days we lie low, or high, in fact, peeping out from time to time upon Bankside roofs below us. Regular as Austrian clockworks, his secretary Hans brings us our meals and removes our conveniences, and now and then Mendoza climbs the narrow stairs to speak with us himself. But nowhere does he offer any demands of us, or suggest we murder the queen or God knows what; only he discourses of the love his king does bear to the peaceful Englishman, and especially to the papist, and the good he always means to do in that direction, though always (alas) suspected of the worst.
A hint or two of more I think I hear, for my suspicious mind is ever ready to seize upon the hard constructions. I find he mentions Sussex often, and what a great friend to him the earl is upon the Council, but wishes Sussex would trust him half so much as he does Sussex; and ever and again he dwells upon what friends we are with Sussex. And always he cites his own king's love for the lovers of peace and the church, and how ready is his king always to reward such well-disposed men with some token of remembrance, with calling to mind the maintenance my brother-in-law Westmoreland receives in Flanders, that too much maligned gentleman, he says, who is granted his pension not because of his rebellion which failed, but only because both before and after it he has shown himself possessed of a good and loving Christian heart. I thought then how strange this pretense would have seemed in earlier times, that the king of Spain should pay a man for being a Catholic, after so many centuries of men paying the pope for that right.
Upon a time, then, in our second day of residence with him, Don Bernardino troops aloft and tells us our friend Sussex who evidently tenders our welfare (he says) as well as we ourselves do, has sent us word by him that matters are not so gloomy as first they had appeared, that though Southwell has been taken up, assurances have been given that upon our giving ourselves up to the warrant, we must be lodged with gentlemen only, and not in the Tower, and only until the matters in question may be looked into. If it is the masses we have attended which breed fear in us, then we must be content with apology, and some conversation with a learned minister or two, and then with a fit attending of the queen's services sufficient to show our good loyalty to her majesty.
There be in this realm, especially at this time, some of the Catholic sort who hold that attending the Protestants' service were the nearest way to hell. And there be as well some new priests and Jesuits lately come in who do insist upon as much. Myself and Mr. Arundell have never been of such over-precise minds that we cannot do the queen's wish as well as the pope's, remembering within us always that our Protestant worship is but a secret seeming, and done in loyalty, not in faith. So we are agreed that if some small accommodations must be made to keep us clear of prisons, then a sermon or two shall be heard.
For the rest of it, if Leicester is restrained from us, we do not doubt we can thrust this monster Oxford's wretched allegations back into his nose-holes, and so, in hope of surviving this storm with such a little wetting, we will surrender us up to the pursuivants. Thanking my Lord Ambassador for his charity, we leave his house and take boat to the privy stairs in Whitehall, where we walk bang up to Mr. Vice-Chamberlain and beg him to dispose of our poor carcasses. The upshot of all is that I am placed in Hatton's house in town; Southwell is removed from Whitehall cellars and boated up to Mr. Secretary's house at Barn Elms near Richmond; Mr. Arundell is sent in the care of Hatton's men to Sutton in Surrey--there to abide our little time of looking into. And where we now remain; hoping in Jesus Christ and Our Lady his Mother to find favor with the queen, to find no questions to unsettle or divide us, to hear of no good hap to Oxford, nor none to Leicester the voracious Bear, to bear our little cross as we have others borne, and finally, to rejoin these Christmas frolics before the twelfth day passes. But, as our countrymen say, hope is the dream of those that wake.
---
| | |
| --- | --- |
| | Go back to the Preface and Table of Contents |
| | Go ahead to Chapter IX. Interrogatories for Charles Arundell (1581) |
---

Please do not reproduce this text in any form for commercial purposes. Historical references for events recreated in this story can be found in D. C. Peck, Leicester's Commonwealth: The Copy of a Letter Written by a Master of Art of Cambridge (1584) and Related Documents (Athens: Ohio University Press, 1985). Feedback and suggestions are welcome,

. Written 1973-1989, posted on this site 10 June 2001.