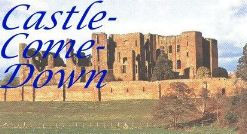 Dwight Peck's lengthy tales
Castle-Come-Down
faith and in the time of Queen Elizabeth I

---
Part 1. ENGLAND (1577-1583)
CHAPTER V. A DISTURBANCE IN THE COUNTRY
(1578)
"Yet many ways to enter may be found,
But none to issue forth when one is in;
For discord harder is to end than to begin."
-- The House of Ate (Faerie Queene, 4)
Winter passed into spring, spring into summer, and the great talk was of marriage. Over many years, the queen had never married, and confined herself to proclaiming from time to time that her only husband was her people. Few observers hoped anymore for an heir of her own body, for as suitor after suitor appeared and disappeared in turn, the queen waxed older and, as many thought, past childbearing age.
In the early 1570s, someone had suggested the young duke of Alençon as a likely match, at that time a most unlikely one. Negotiations had been underway between Elizabeth and the attractive duke of Anjou, soon to be King Henri III of France, but Anjou's scruples in matters of faith had brought the project down. His brother François of Alençon had been thrust forward by way of an alternative, but he was still a boy, an ugly little boy at that, and the queen would not so compromise her dignity for the sake of any mere amity with the French. Since that time, however, tensions with the Spanish had been growing; alliance with France seemed more than ever desirable; the boy's papistry, never passionate in any case, might be got round. Someone revived the name of young François, now himself styled the duke of Anjou in succession to his brother the king and, it was pointed out, himself the heir to the French crown.
In May 1578, Lord Burghley sent an embassy into France to sound out the possibilities. His envoy was Edward Stafford, a bluff man, choleric but loyal, of exceedingly high lineage. Stafford, by family lines, could almost have been counted a Howard, for his mother, one of the queen's most trusted ladies of the chamber, came from Howard stock. He was not himself a practicing Catholic, but his sympathies, those generally of the old nobility opposed to the Protestant new men, were clear enough. He went to his mission enthusiastically, as visions of an England headed by a Catholic consort to the queen rose enticingly before him.
He arrived in Paris in late May. Travelling on to the French court, he underwent his audience with the queen mother, Catherine de Medicis, and acquitted his commission with unaccustomed tact. His party then returned, bearing to Queen Elizabeth a letter from Catherine that spoke most encouragingly for a marriage with her youngest son. In mid-summer de Bacqueville and Bussy d'Ambois arrived from the duke himself; the opening moves had been made in what would prove a long and complicated game.
Meanwhile, in Staffordshire, the sons of William Robinson, deceased, of the manor of Drayton Basset, had run themselves into financial difficulties. In 1575 the elder brother, Thomas, had foolishly mortgaged the manor for a small loan to Mr. Richard Paramore, a land speculator from London who had frequent dealings with the earl of Leicester. Repayment was slow in coming, and Paramore moved in promptly with his lawyers. Armed with an injunction from the Court of Exchequer, he rode out to the house and evicted the Robinsons with very little ceremony.
On the 21st of June, 1578, a man named William Harmon approached Drayton Basset and insisted upon entering. He maintained that he was to carry off the household valuables of Thomas and John Robinson, for their use and benefit as permitted under law. John Floyd, Paramore's agent, refused him and sent him on his way. The following Sunday, Harmon returned with Daniel Cary and several of the Robinsons' friends.
As they rode up the path to the manor house, Floyd appeared at the door with his hands behind his back. In the bay window above another man stood half concealed by the hangings. The horsemen drew up below.
"I am to claim certain household articles, sir," called Harmon, "and we will not this time be turned away."
"Sir, I may let no man enter here."
Harmon and Cary dismounted and advanced to the lowest step.
"We will come in, though you try to stop us."
"Then come ahead, sir, but you shall not pass."
Harmon thought for a moment.
"Sir, these said household articles are not in your warrant," he said. "Thus, you must let us have them, or their owners shall go in want, and you shall go to the magistrate."
"I know nothing of warrants," replied Floyd. "I must prevent you from entering this house."
"By God, you shall not," cried Harmon, and he and Cary bolted up the steps.
Mr. Floyd brought both arms out before him, each hand holding a cocked pistol. He discharged them with thundering detonations. Cary grasped his shoulder with a cry and was flung down upon the path. Harmon stopped in midcareer, stunned by the noise, then growled an oath and charged on. His right arm shot out and plunged a dagger into Mr. Floyd. Above him the heavy glass in the bay was shattered outward, and a man leaned out with a great musket. One of the mounted men called out, "Shoot him, Swithin." Swithin was unarmed, but the man took fright at the cry and ducked back into the window, whereupon Mr. Harmon darted out to Cary and helped him to his horse. The party whirled and beat off down the path, as Mr. Floyd stood up and surveyed the wound in his side, cursing his luck.
In September, Charles Arundell rode out to see his friend Lord Thomas Paget and take some needed rest. In mid-June, he had been pressed into service as part of the ornamental train of an embassy sent over to the Netherlands, ostensibly to mediate a peace between the Protestant-led rebels and their Spanish masters. While there, Arundell and some others had become angered by the manner in which Secretary Walsingham was conducting his mission, rather inciting the insurgents than mollifying them, and signs were appearing everywhere of English entanglement in the wars there. At length word reached Amsterdam that, prompted by Walsingham's reports, and by the Protestants' grandiose promises, the queen was about to send a force of twelve thousand men under Leicester to join the rebel cause.
Arundell would have no part of it. He slipped away from the English party and travelled to the Hook of Holland, whence he embarked for Harwich, riding finally to the court not more than a week since.
A brief audience with the queen assured him she thought no ill of his returning. But then he learned that, quite coincidentally, her majesty had reversed her courses with the Dutch once again; something, perhaps the ambassadors of marriage sent from Anjou, perhaps the state of her Exchequer, something had changed her mind, and she would not now send, set aside the men, even the pecuniary aid long promised to the rebels. This sorted well enough with Arundell, when he first heard of it. But when he found the earl of Sussex congratulating him cordially for his good effect upon the queen's mind, he became uneasy.
And then, not a day later, in the corridors of Greenwich Palace, he met the earl of Leicester and his followers on his way into the Gatehouse stairs, and the earl stood before him glowering long. Arundell smiled a trifle foolishly at the imposing man in front of him. He shuffled his feet. Then Leicester told him plainly that when the Spanish tyrants had devoured the Dutch and turned upon this island, he Leicester would study where to find him. Charles tried stammeringly to exculpate himself, to which the earl brusquely replied that when he had first heard Arundell's name on the rolls of this important embassage, he had told his friends to what purpose he did go; he swore that Arundell must savor his victory now, for perforce it would be brief.
Arundell had taken to his rooms, in the belief that the less seen the less he would be thought of. A short consideration then decided him upon his visit in the country. He departed the following dawn, before anyone had risen.
Leaving the river Thames at Oxford, Charles and his man Sharrock struck northwest to stop for a night at Stratford, and then up the valley of the Avon, past Warwick and then past Leicester's castle at Kenilworth. They rode on to Coventry, and then bent west through Tamworth in Staffordshire, through Lichfield to Beaudesert, where they arrived towards evening.
Paget's Beaudesert was one of Arundell's favorite houses. It comprised a great square with a fair green court within, with a well-appointed gallery, and two towers covered with lead; a commodious hall, parlor, and great chamber with a chapel; a fair green yard of two acres before the gate, and nearby, a pleasant fishpond. The furnitures within were old, but much the better for it. There was not a trace of Italian influence.
Beyond the gardens further down the lane could be seen a number of gentlemen coursing hawks. Arundell rode towards them, leaving Jamie to settle them into the main house. Lord Thomas strode out from the group, arms extended.
"Ah, the Jolly Peregrinus. You are very welcome, Charles! How go things at court?"
"In silk and silver, brother."
"I do not doubt it," Lord Thomas cried.
The other men crowded round to greet him: Sir Francis Willoughby whose sister was Sir Matthew Arundell's wife; Edward Arden of Park Hall nearby; John Gifford of Chillington near the Shropshire borders, and his brother-in-law Erasmus Wolsey, all noted gentlemen of the religion. Two other men, Mr. Henry Goodier and a little man named William Barler, he encountered now for the first time, and found them affable.
The falcons were recalled then, each landing upon an outstretched arm to receive its hood and chain. The gentlemen returned to the main house, conversing amiably. There they met a number of the ladies assembled in the front room.
Lady Nazareth Paget came forward to welcome her husband's friend. Not an unattractive woman, she seemed nonetheless very plain and settled in contrast to the ladies at court, but it was not for this that Arundell did not like her. He had known her since her marriage to Lord Thomas some thirteen years before, then a young girl of seventeen or thereabouts, and since that time she had scarcely changed. She was a simple, pious soul, to the point in Charles's view of superstition, and increasingly pious to the exclusion of everything else. Her conversation, which drove Lord Thomas silly, revolved chiefly about vacuous matters of this one's holiness, and that one's saintly life, and this one's base cowardice in yielding to attend the services--the occasion of some small marital strain, for Thomas himself had more than once yielded, in cowardice of a sort, to attend the Protestant church. She had often cause to remind him, for his gradual edification, wherein he departed from the hagiographical models of behavior.
And Lady Nazareth distrusted Arundell. She felt bound to treat him courteously, because he was known to be of the religion, but she suspected the court itself from the country tales of its license and show and extravagant life, and very likely she harbored some conception of Arundell as the serpent in her husband's garden. Whenever Lord Thomas visited in town, she was never quite sure that that wandering planet, whose orbit she had constantly to correct, would be coming back on schedule.
Behind her sat Paget's mother, now more than seventy years old, whose old-fashioned wit and robust piety Charles loved more than he loved anything modern and who in turn had always much affected Charles. The other ladies he greeted, too, Lady Dorothy Willoughby, Mistress Mary Arden and Mistress Joyce, old Gifford's wife. Behind them, still seated, was Lady Anne Lee.
Anne was still beautiful, he thought as he went to take her hand. But it was not the striking beauty of the sybaritic dames like Lettice Essex, who minced their way about the court as who should say, "This is the way they walk in paradise"; rather a quiet beauty of shyness and dignity and good faith. She was no longer young--she was slightly older than her brother Paget and, like Charles himself, not far off from forty--but her soft face, usually composed, could be quite gay. She was devout, but in a quiet way, unobtrusive yet unyielding, despite her husband's wheedlings, then commands. She had not been dissuaded, and finally Sir Henry Lee had cast her off. Here she lived at home, caring for her mother for the most part, and reading.
Wolsey, Goodier, and Barler departed shortly afterward. There were some whispered words in the courtyard, which Arundell did not quite hear, that seemed to forecast their return. Then the rest went in to dinner. Arundell, by deft manipulation of chairs, contrived to be seated next to Anne.
When afterward the ladies had retired, the gentlemen sought the fire, where stretched before it they shared good wine and spoke ramblingly upon diverse subjects. There ensued much talk of the earl of Leicester. The gentlemen in the country roundabout resented his growing influence there, where with benefit of the queen's favor he had been buying or inveigling away the lands of many families, held through many generations, in Staffordshire and the shires bordering on it. Lord Thomas told of the earl's activities near his great castle in Warwickshire, explaining in suspiciously thorough detail the methods by which Leicester had expanded the parks and chases of Kenilworth by force of ancient records, fortuitously discovered, giving him title to the pastures and woods of many honest men.
The others slapped knees and swore oaths and pretended to amazement. Then came tales of the earl's abuses of her majesty's generosity and good will, how he provoked rows with her that she must confer gifts upon him in reconciliation; how he changed lands with her, taking out the best titles in the crown in exchange for his worst lands got by extortionate means; how he importuned her in behalf of unworthy suitors, whom later he hounded energetically to find the limits of their gratitude.
"Thus," said Arden; "thus Robin playeth the broker in all his affairs, and maketh the uttermost penny of her majesty every way."
Murmurs of sullen indignation on every hand. The men grumbled their resentment of all these courses, and Lord Paget ventured to say that the case of Drayton Basset was not much unlike, at least in the point of the earl's excessive greed, to which the others nodded vigorously in agreement. Arundell had not heard that tale, but before he could inquire, the gentlemen began to stretch and yawn and, with unintelligible murmurs of farewell, departed to their beds.
The next morning brought a fine, quiet autumn day, and the company rose late. Following luncheon, when some of the other gentlemen went off to observe his lordship's stable, Charles found Lady Anne in the gardens, and together they strolled out. She wore a simple gown of light stuff, with a stiff embroidered front, open across the top, but with a shawl drawn across her shoulders against the coolness. Charles had his light doublet of mellow blue, with a matching cap, a silver badge depicting Apollo set above his forehead. Somehow the soothing climate made each of them look and feel quite youthful, and they were conscious of the curious sensation that time had leapt backward to similar walks of many years ago.
Circumambulating the court and building, they turned westward away from the house. The hills behind the manor were touched with brilliant sunlight, and the air seemed to shimmer above the meadow flowers. They talked intermittently of those early years of their acquaintance. Her father and his had been friends in Somerset's time, and they had played together as children in their earliest days. Their most poignant memories, however, came from the first years of the present reign, in the few years before her father's death, when her husband, much older than Anne, had gone off hunting with old Lord William and other men, and she and Charles, then in their early twenties, had strolled as now about the hills near Beaudesert. Then as now there had been no wicked purpose in their slipping away, though occasionally then, as now, they had clasped hands walking over the fields. The years had come and soon gone on. They wondered at the curious events that had kept them so much apart, and at the byways of circumstance that separated them even now. They both began to grow sad.
Anne loved her family deeply, even her time-serving brother Charles, who daily entered further and further into government suspicion. Most of all she had loved her sister Jane, whose husband, Sir Thomas Kitson, now remarried to her friend Elizabeth Cornwallis, had been called up and clapped in prison for his obstinacy in religion. She asked whether Charles could not arrange through his friends at court to have the gentleman set free. Charles replied that he believed he could do nothing, so little influence had any of his friends at present. But he would see what might be done.
Over the brow of a gently rolling yellow hill, they sat down beneath a solitary tree. The birds above fluttered about on the branches unseen, and whistled gaily. Arundell took Anne in his arms and kissed her, then they reclined in the long grass with her head upon his chest. They reminisced idly about times long past. Anne smiled happily at the recollection of their early walks and talks together, and of dances and parties in the holiday seasons, but frowned and stiffened when once he mentioned her husband only in passing; thereafter Charles expunged Sir Henry Lee from their memories and recounted stories of their pleasure gatherings as if the man had not been present.
In a curious way, though separated irreparably by her marriage, they grew amorous in their speech, but chastely amorous, as if the business of love were a harmless game they might permit themselves, like a round of cards, without any expectations of one another beyond the same. In this spirit, Charles stretched his imagination for poetic metaphors for her charms and qualities, making her giggle at preposterous comparisons like eyes to twinkling stars, hair to finest wire. For a jest, he tried reciting one of Wyatt's love songs to her, one of his favorites, but neither of them could remember the lines straight through.
"'I find no peace and all my war is done,'" he ventured, and then paused.
"'I feed me in sorrow and laugh in all my pain,'" she replied.
"Ah. 'And my delight is causer of this strife,'" he said, laughing ruefully. "Anne," he said, "I'll tell you freely, I could wish we were in other case than we are."
She gazed up at him with a sad smile in her eyes.
"I could wish so, too, Charles," she answered, but so saying, she scrambled to her feet, with a very slight frown, and tugged at his hand to make him rise.
"'Disdain me not without desert,'" he cried out, "'nor leave me not so suddenly--.'"
Laughingly she took up the refrain: "'Since well I wot that in your heart, you mean no thing but honesty'--
"'So I disdain you not.'"
What tension there had been was broken, and together, in harmony, they walked back towards the manor house. By way of a solatium, she kissed him again outside the gates.
As they re-entered the courtyard, they found a body of men milling about in several groups, some standing beside their horses. Spying Arundell, Lord Thomas Paget detached himself from the nearest group and hurried towards him.
"Master Arundell," he called, "here are friends who must meet you."
Arundell turned to Anne and bowed stiffly from the waist, saying "Mistress." She half-curtsied in reply, with a faint smile, and walked on to the house.
"Gentlemen, I present our friend Mr. Arundell of the court," Paget called out. Behind him, Arden, Gifford, and Willoughby formed a backwall as if he were addressing an assembly. Grasping Arundell's arm, Lord Thomas led him round from man to man. "Charles, here is Mr. Walter Harcourt of Stanton Harcourt and of Ellenhall not far off from here. These his worthy brothers Mr. Edward and Mr. Thomas Harcourt of Tamworth, and his uncle Michael Harcourt."
Charles nodded to each of the gentlemen as they were introduced. Lord Thomas went on: "Here are Walter's brothers-in-law Mr. Thomas and Mr. John Robinson of Drayton Basset. Their cousin Mr. Thomas Fitzherbert of Swynnerton. These gentlemen behind, William Harmon, William Egerton; you have met Mr. Barler and Mr. Goodier; Thomas Combes, Roger Stamford, Mr. Charnelles of Suerson--gentlemen, all."
A chorus of grunts and greetings rose from those named and the rest behind, who were very many more. Arundell nodded affably, but was much perplexed at this unaccustomed display of country gregariousness. From the corner of his eye he caught sight of Twinyho, Paget's servingman, emerging from the store buildings with white sacks on his shoulder; behind him came another, Walklate, with an armload of muskets and calivers. Arundell started at the sight. He looked more closely round and saw that many of the men wore bows and wooden quivers across their backs; strapped across some of the horses were bundles of guns with pouches of shot and powder; the men carried from their belts everything from ancient broadswords to modern sabers to ugly serrulate dirks.
"Uh, Tom," he said. But Lord Thomas was speaking to Walter Harcourt; beside him John Robinson, a virile young man with short hair and a florid face, was interrupting at every juncture and being told peremptorily to be still.
Finally Mr. Harcourt raised his hand in the air and the men began mounting up. Lord Thomas turned to Arundell.
"We'll just see them on their way, shall we, Charles?" he said, smiling amiably. "Here is your nag, ready and waiting."
Paget swung into his saddle, and Arundell followed into his, partly out of curiosity, partly out of the want of a strong reason not to. But he had misgivings; these were not sportsmen he was joining. It was rather more like the beginning of a crusade, setting out in relief of the Kingdom of Jerusalem.
The party, more than thirty men in all, rode out through the gates in a rattle of swords and stirrups with clouds of dust rolling high up behind. As the band strung out along the highroad, the men Charles had met, all Staffordshire gentlemen, moved naturally to the head of the column. Arundell would have preferred a place discreetly in the middle of the pack, but the common men, deferentially, kept dropping behind him, more and more slowly as he slowed, until soon there were two armed bands, with Arundell riding as captain of the second one. He kept looking round at the peasants and servingmen behind him and tried waving them ahead, but each time he did so they touched their brows or doffed their caps and grinned back at him happily. Finally he gave it up and spurred his horse ahead.
The party rode southward, west of Lichfield, past Maple Hayes and finally Shenstone, more than an hour now from having started out. Alongside him, Mr. Fitzherbert leaned from his saddle and addressed him in tones too low to be heard. Arundell cupped his hand behind his ear and leaned back. He liked the fellow's looks immediately, his large shoulders that looked like he could crush a man easily and his open, honest face that looked like he could do nothing of the sort. Fitzherbert raised his voice above the hooves.
"This is a bad business, Master Arundell," he called, frowning.
"What business is it?" Charles shouted back.
Mr. Fitzherbert looked at him quizzically, then shrugged his shoulders and rode on. His scowl showed that he thought it no less a bad business.
Just east of Shenstone, they topped a hill and descended into a shallow valley golden in the sunlight. Then Arundell noticed off to the south another band of some thirty horsemen riding roughly parallel but approaching them, as if in pursuit.
"Christ's body," muttered Arundell.
He spurred forward and pointed across Lord Thomas to the other party. Paget grinned back at him and nodded agreeably.
A mile farther on, the two bands had become one. The newcomers, mostly men of the common sort, were also armed to their teeth. They were now a small army, posting along at a considerable pace, raising a column of dust that might have frightened Pompey into leaving behind his tents.
At length they approached a pleasant knoll ascending out of a circle of woods, atop which knoll, nestled amongst small clumps of wood, rose a single block of a stone manor house, dwarfing all of the outer buildings save the nearby barn. The men reined up behind the trees.
Mr. Walter Harcourt reached over to shake Mr. Arden's hand. Addressing Lord Thomas, he signified that however things should fall out, their gratitude to his lordship was assured. Then John Robinson, impatient to begin his work, dug his blunt spurs into his horse's flanks, and the horse reared back, and both horse and Robinson, his sword raised high above his head, swung out round the men nearby, crashed through the stand of trees, and galloped forth onto the broad meadow stretching down from the house. Some fifty or sixty men spurred likewise and tore through the wood behind him, and up the yard rode a company at full charge.
Arundell stared in awe at the sight. It was something he had not seen since the siege of Newhaven in his youth. Lord Thomas still sat beside him, and Sir Francis, and Mr. Arden, but all the rest were dashing towards the manor house like a host of cavalry.
As the irregular lines of riders, flanked out along the whole front of the house, neared the top of the knoll, a few flashes appeared at upper windows, followed seconds later by the crackle of distant musketry. But the shooting stopped before the house had been gained. Moments later a figure rode a few meters out from the milling horsemen and waved his arm down the hill. Off to the north, a small group of men could be seen descending the slope at a full gallop. The attacking party had dismounted by the front doors and gone running through the house, throwing open the shutters, waving from the upper windows, cheering joyfully and making funny faces at the men holding their horses in the yard below.
Lord Thomas turned to his friends, grinning as if to say "I told you so," and the remnant band set off for home. Within little more than two hours' time, they arrived at Beaudesert. They dismounted in the courtyard, as Lord Paget's men ran out to grab the horses, and entered the house.
As they gathered in the long gallery to refresh themselves, Arundell said drily, "Well, my friends, God save the queen and the right! Another Agincourt for the English."
Sir Francis slapped his thigh and exclaimed, "It was; bless me, it was! Agincourt! Did you mark the miscreants turn up their tails and run away?" Arden was beaming at everyone.
"And was it the flower of French chivalry we put to flight today, gentlemen?" Arundell asked.
"The flower of, ha ha ha, French chivalry, ha ha," laughed Paget. "Oh damn me, the very flower, yes! Ha, ha, ha."
"Who did we put to flight?"
Whereupon the gentlemen at last told Arundell the story of how the earl of Leicester, under cover of Mr. Paramore's mortgages, wrongfully and cruelly had evicted the tenants of Drayton Basset, as he had already dispossessed them of Shuttington and other manors in the region. The Robinsons, thanks to their friends throughout the county, were now restored to their own.
Arundell groaned. "So we have been then in a rebellion."
"No, no, not a rebellion," Lord Thomas explained, speaking persuasively in a voice that might have soothed Capaneus in hell, finally beginning to suspect that perhaps he ought to have explained it all beforehand. He grinned like a shy schoolboy caught in some small solecism. "Merely the triumph of right over extortion and rapacity, my dear Charles. It is not justly called rebellion because they have no political purposes, nor mean harm to any but their enemies."
"What are your ends in this bad business?" Arundell asked.
"Merely the triumph of the right," Sir Francis replied. "All the gentlemen of this county have long marked Leicester's bold encroachments hereabouts, where he has no ancient right. We are pleased to provide what material help we may to our aggrieved neighbors."
"I see," said Charles, and turned away.
Even as he spoke, the men at Drayton Basset continued busy. A number of them were at work upon the trees just near the house, felling them and dragging them off with horses to create a free field of fire. They ditched the house all round, and barricaded the ground floor windows and doors with heavy furniture from within. Not long after nightfall, they had completed their preparations. They set a watch on the roads nearby, a mile or two out in each direction, each guardsman nestled snugly down into stacks of kindling wood. The rest of them retired for the night, sleeping with weapons in their arms.
At Beaudesert, the gentlemen and ladies played at primero by candlelight.
The four men who had fled the house arrived in Tamworth just before suppertime. They stopped at an inn, where lay Richard Paramore, who was using this pleasant rural town as a base from which to oversee his business in all the country roundabout. When he received the news, he began to splutter, which took up about ten minutes, and then he donned his jacket and hastened down the road to Mr. Ferrers's house in Tamworth Castle.
The robust Mr. Humphrey Ferrers was by far the most substantial citizen of Tamworth. His family had always been successful in the district, but Humphrey had outshone them all. Besides his ample commercial talents, he boasted still another great advantage: a powerful friend at court. In return for little favors which now and then he undertook to do for the earl of Leicester, he was assured of much success in his suits at court; he was likely to receive the benefit of any doubt when his cases came before the courts; he was seldom affronted by his neighbors. Mr. Humphrey Ferrers had been fortunate in his affairs.
Mr. Ferrers and his wife were sitting down to dinner as Paramore arrived. The children having already dined in the kitchen were tramping up the stairwell to their beds, ogling the newcomer from the floor above. Paramore was ushered into the parlor to wait. When Ferrers had finished, he rejoined his London guest and heard the tale of Drayton Basset. Mr. Paramore was in a state of extreme excitement. He had an investment here of a sizable sort, and he loved very little the idea of losing it to a churlish mob. Mr. Ferrers strove to reassure him; in the morning he would ride over with a posse and burn the outlaws out. Mr. Paramore loved that idea even less. He grew more and more agitated until at last Mr. Ferrers required him to close his mouth and leave the business to him.
Paramore had not failed to observe that my lord of Leicester would be little pleased were anything to go agley. Ferrers, who took such things to heart, hastened to his servants' quarters and summoned up his men. Tristram Warde he dispatched southward to Coleshill in Warwickshire, where Sir George Digby was a special friend of the earl of Leicester's interest in that region. The others he sent up and down the streets of Tamworth with messages for all the householders.
The next morning Mr. Ferrers, accompanied by a posse of some forty-five men, was met about a mile from Drayton Basset by Sir George with about forty more. Ferrer's party carried with them a string of horses bearing straw. The day was fine, and the prospect from the house was all that could be wished, except that it included this company of men approaching down the highroad like Hannibal upon Rome.
The men inside the house scrambled up upon the alarum made. John Robinson darted from room to room positioning his friends at windows and doors, while Mr. Harcourt and his family took up posts directly above the hall door. Thomas Robinson, who was not a terribly bright man, wandered about touching the furniture and moaning softly. Many of the farmers and servingmen who'd been given guns looked at them doubtfully and turned them over in their hands, as if to assure themselves they had the right ends pointed outward.
The posse, nearly a hundred strong, ranged out along the bottom of the slope in a serried line. Mr. Ferrers took his pistol from Tristram Warde and rode forward up the slope, followed by Mr. Wirty, the justice of the peace. As they neared the house Mr. Ferrers stopped, and Mr. Wirty came on alone. Just before the ditch, he looked up at the windows bristling with guns and drawn bows and swallowed anxiously.
"Who. Ahem. Who speaks for those within this f-ouse, house?" he called. He had almost said "fort," recalling his youthful exploits at the siege of Leith.
"I speak for them. God save the queen!" called John Robinson in reply.
"If that is you, Mr. Robinson, I must order you to leave this house peacefully and to trouble no more the just possession of Master Richard Paramore of London."
"Carry thyself to hell!"
Mr. Wirty turned his horse's head about and started back. Ferrers waved him forward. He shrugged his shoulders and turned about again.
"Mr. Robinson," he called.
"What!" called the young master.
"Cease this contumacy."
"I will not."
Mr. Wirty tried again. "Mr. Ferrers, a former sheriff of this county, is come to possess this land by due order of law. He holds in his hand a letter of attorney, signed by Mr. Paramore whom you know, which letter authorizes Mr. Ferrers to enter upon this manor house and land to the earl of Leicester's own use, and to oppose with his might all who would prevent him."
Mr. Ferrers waved a piece of paper up towards the windows.
"He has no authority here," shouted Robinson.
"Nay, sir, he has his letter of attorney," said Mr. Wirty.
"Notwithstanding that, you may tell Mr. Ferrers," called John Robinson, "that if Mr. Ferrers comes upon this ground today, one of us will die for it."
Just then a discharge of musketry boomed forth of one of the upper windows. The sound rolled out and thinned to a crack as it descended the knoll. Mr. Wirty's horse jumped, but he succeeded in calming it, better than he calmed himself, as everybody looked skittishly about to see whether anyone was fallen.
One of the servingmen had just found where his trigger was. Mr. Wirty was silent for some seconds, looking nervously at the faces peering at him from above and from behind the sheds nearby.
"Mr. Robinson! Truly! Truly, I beg you to desist."
The house was silent. Ferrers called to him, and he swung about and cantered down the hill, followed by Ferrers himself.
The morning was still and brightly shining. The slopes of the knoll glistened with greens of various hues. It was a fine day to be dozing beneath a tree, or swimming.
Digby and Ferrers raised their swords aloft and the whole line dashed forward. The thundering sound of hooves carried up the hill. As the charge drew near the house, musket fire flashed from some of the windows and arrows wobbled across the sky between the hosts. Some of the posse dismounted and discharged their own guns, and chips of plaster flew off the building's front. One hardy man made the ditch at a leap, but a ball struck his horse and he tumbled to earth beneath it. Then others came across, and the men rode up and down the length of the house within the trenchwork, looking for an opening in the defense through which to enter. One of Digby's men cried out in pain as an arrow struck through his arm. Another went down with a wound in his thigh. The crackle of fire slowed as the first fusillade had been let off, but as weapons were reloaded, often inexpertly, more flashes poked out from the windows. Another man clutched at his arm and spun round cursing.
Digby swung his horse about and called to his men to return. Two of those within the ditch, with little room for their horses to gather speed, failed to make it back across, but they scrambled up the bank like jugglers and fled down the slope on foot. Halfway down the hill, Sir George and Mr. Ferrers regrouped their men and faced the house again. The cheering from within subsided.
Before the house lay two men wounded. They stood up slowly and shook themselves, and then walked down the hill clutching their injuries. Digby and Ferrers could be seen conferring earnestly before their men.
Inside the house, John Robinson strode from room to room congratulating the men on their victory. His brother sat in the corner of an inner room with his legs drawn up.
Suddenly, Tristram Warde led a small band of men out from the left of the line, galloping up the hill with a string of packhorses behind them. They approached the house from the corner; though the depressed muskets fired from all across the front, no one was hit, and only one packhorse failed to clear the ditch. Dismounting at the corner of the building, with their horses kept close about them for cover, the men hauled down bundles of straw and piled them along the wall. They fired them, then backed away towards the ditch with their mounts held between them and the house.
Smoke billowed up the wall and into the sky above. Barricades were torn away and defenders poured from windows and doors to extinguish the blaze before it could ignite the timber frame. Whereupon the whole line dashed forward again, and many more men, lest their friends be left exposed, ran yelling from the house to meet the charge. From upstairs, more shots rang out above the tumult and many more arrows fell. The two parties met about the ditch, which by its steep sides and unsure footing wrought more injury than did any feat of arms.
Now Whirl was king! Men swung their heavy weapons blindly, and if they missed their foe ahead they undid their friend behind. Confused cries filled the ground; sword clashed upon musketstock, musketstock crunched into knee or soughed into guts; defenders poured out of one window to find assaulters pouring into the next. Fist caught jaw, bow broke upon head, stock thumped across shoulders, stout fellows were thrown bellowing into the ditch or pitched flailing out of a door. The men upstairs had long abandoned their firearms and joined the melee below. Here was where all demons came to court. The yard was paved with groaning fellows holding their heads and weaving to and fro, trod upon by knots of men hurling themselves against their antagonists. John Robinson ran through the parlor with his pistol newly primed. As he reached the hall, Tristram Warde came leaping through the great door brandishing a cudgel aloft, seeking prey. John extended his arm and discharged his piece into Tristram's face; the big man made no cry or gesture, but somersaulted out of doors and down the steps into the yard.
Next to him, someone left off pummelling shoulders and began to scream. All around, men rushed near and bent over the body without touching it. The reaction spread all along the house; those struggling far off at the corners could not see what had gone wrong, but rumors passed through the crowd like a powderflash.
The Tamworth men began backing towards the ditch, while the defenders edged towards the far sides of the house. Many swung listlessly at their near opponents as the armies disengaged, and there was some pushing at the edge of the ditch. At length, however, Mr. Ferrers's posse was massed once again halfway down the hill. The Robinson party stood in the yard and windows staring down at the wounded men who painfully claudicated their slow way down to their comrades.
A few minutes later, Sir George Digby rode back up with two of his personal retainers. He leapt the ditch and came up to the door. The defenders stepped out of his way. His men dismounted and, with a certain repugnance on their faces, hoisted the former Tristram Warde aloft and threw him across a saddle. Not a word was said by anyone. Sir George and Mr. Ferrers and their posse of nearly ninety men, many of whom would be sore for several days or a week, one of whom need never fear soreness, rode silently away. Dust hung in the air behind them.
Mr. Ferrers departed the following day for the court. There, after hasty explanations to the earl of Leicester, he was shown before the Privy Council, where he related the tale of his legal process resisted by a seditious mob, one man slain. Lords Burghley and Sussex raised some question as to the true ownership of the land, but it was pointed out to them, quite properly, that the first problem at hand was a manslaughter and an armed and lawless band still abroad in the heart of England, and that matters of right could be disentangled later. So the Council promptly wrote out warrants to the sheriff of the county, and to the local noblemen known for loyalty, requiring them to quell the disturbances at once. Word of the assault on Drayton Basset had reached Beaudesert on the same day it occurred. Mr. Arden and his wife had already returned to Park Hall, and the Giffords had moved on to relations farther north. When he heard the news, Lord Thomas muttered a mild curse. He went round and told Arundell and Sir Francis Willoughby, who were playing at fencing in the gardens, that the manor house had been unlawfully set upon and one man killed.
Arundell grew quite angry. Sir Francis inquired upon which side the dead man had been fighting. Lord Thomas recounted the version he'd been given, that the deceased had been one Warde of Ferrers's party, but that "he had been slain by some of his own company that came with him."
Sir Francis suggested that perhaps the earl of Leicester had learned a lesson of the incident, and would hereafter cease meddling in country affairs. Arundell suggested that the defenders would soon learn a lesson in slaughter, when the government's warrants should arrive, and that if there were any survivors and those survivors were to say where they had got their weapons, certain good fellows now conversing merrily would learn a lesson of the Fleet prison. The situation had begun to look serious, even to Lord Thomas.
Arundell took his hurried leave of Anne, Lord Thomas took leave of his wife, and together they and Twinyho, Walklate, and Sharrock galloped northeastward into Derbyshire, to pursue the court on the queen's progress in Norfolk by circuitous ways, lest they come across a party of militia on the highway.
At the end of the week the Lords Dudley and Stafford arrived at Drayton Basset, Mr. Ferrers by their side repeating his version of the story in several recensions, with a party of three hundred men behind them. The manor house was encircled, and Thomas Johnson, the queen's Sergeant at Arms, rode forward to read the Privy Council warrants. After safe conducts given, the defenders, appearing somewhat abashed and overthrown, filed out unarmed. Mr. Johnson entered the house and returned with the Robinsons in tow, John looking rather surly, Thomas as if he were seeing camels in the clouds. Mr. Harcourt and his kinsmen, Charnelles, Goodier, Harmon and the rest of the substantial citizens were cut out of the herd and mounted for return to London; the servingmen and tenants were dispersed to their homes with a scolding heartily delivered. Lord Edward Dudley observed Mr. Fitzherbert among the men detained, and quietly sent him on his way with a meaningful look.
In the succeeding weeks, Arden and Sir Francis and his lady were examined for complicity, then released. The participants were interrogated in Star Chamber and remanded to the Fleet, whence two years later they were freed upon bonds of good conduct, all saving John Robinson, who went eventually to the gallows. Some suspicion attached itself to Lord Paget, especially as he hovered about for a month or two pointing out to everyone that "more is made of the matter than needeth, and that the country hath been at great charges without profit" by investigating the matter so thoroughly.
My lord of Leicester had his manor after all; his widow died in residence there over fifty years later.
---
---

Please do not reproduce this text in any form for commercial purposes. Historical references for events recreated in this story can be found in D. C. Peck, Leicester's Commonwealth: The Copy of a Letter Written by a Master of Art of Cambridge (1584) and Related Documents (Athens: Ohio University Press, 1985). Feedback and suggestions are welcome,

. Written 1973-1989, posted on this site 10 June 2001.