Dwight Peck's low-res photos
Farms of the Jura in winter
[The Jura mountains run in a southwest-northeast direction along the border between France and Switzerland, from Geneva (Genève) to Basel (Bâle), holding at about 1300-1400 meters altitude (4350-4500 feet), and peaking in the range of 1650 meters (5450 feet). These photos of high alpage farms in winter are mainly from the southwestern end of that range, between the cities of Geneva and Vallorbe.]
Chalet de Yens
The Chalet de Yens, which sells fresh goat cheese to hikers in the summer, lies at 1589 meters altitude and is the staging point for the last walk up to the summit of Mont Tendre, which in winter is normally rather iced over by strong winds from the west and presents several fine, large cornices before one reaches the summit ridge. (19 March 2000)
From the side of Mont Tendre to the south, April 2001, with France at the top of the photo.
Sunset, January 1997
Fog on 19 January 2003.

Foggy Chalet de Yens, 14 December 2004.
Chalet de Yens from the northeast, 13 March 2005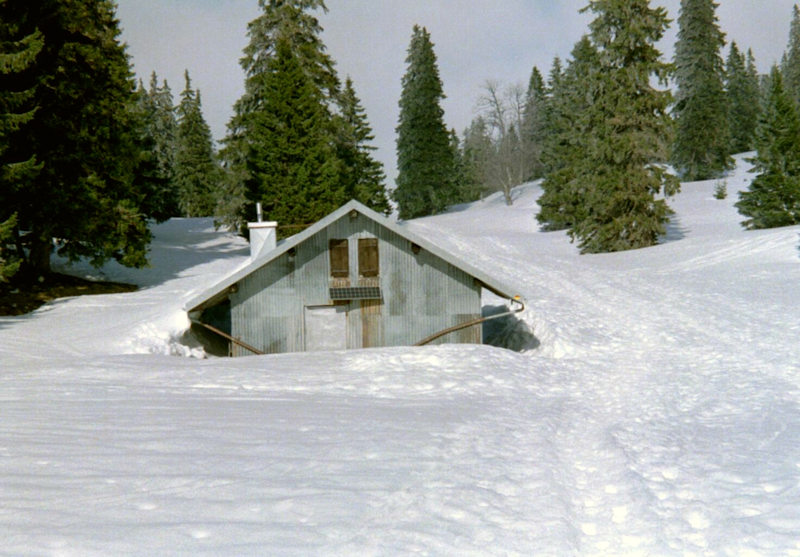 The Cabane du Servan at 1555m just SW of the Chalet de Yens on the Chemin des Crêtes transjurassien hiking trail between the Cols of Marchairuz and Mollendruz. (19 March 2000)

---
From the Carte National de la Suisse, 25,000 scale: 1221, Le Sentier. From left to right:
The violet dot indicates Croset au Boucher.
The pale blue dot indicates the Cabane du Servan.
The red dot indicates La Racine.
The dark green dot indicates the Chalet de Yens.
The lime green dot indicates the little refuge Bon Accueil ("warm welcome").
The yellow dot indicates the farm at Pré de'Etoy.
The dark blue dot indicates the Mazel farm.
More photos of Mont Tendre
---

Feedback and suggestions are welcome if positive, resented if negative,
. All rights reserved, all wrongs avenged. Posted 15 March 2001, most recently updated 11 January 2006.