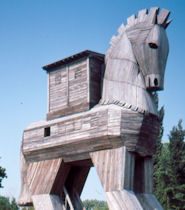 Dwight Peck's personal website
Marlowe Peck goes to Turkey, 1987
---
---
You may not find this terribly rewarding unless you're included here, so this is a good time for casual and random browsers to turn back before they get too caught up in the sweep and majesty of the proceedings and can't let go.
(Mr Peck went for an afternoon run over that hill in the background and, descending through cliffs on the far side, found himself amid the 4th century Caves of the Seven Sleepers. As he trotted out through the tourist gate at the bottom, the ticket-taker tried to charge him the admission fee retroactively. (Mr Peck ran away instead.))
---
---

Feedback and suggestions are welcome if positive, resented if negative,
. All rights reserved, all wrongs avenged. Posted 10 July 2002, revised 3 October 2013.